Miguel Cabrera: 'I've told the Tigers I want to play first base'
In the wake of the Prince Fielder trade, Miguel Cabrera has let the Tigers know he wants to move across the diamond and back to first base.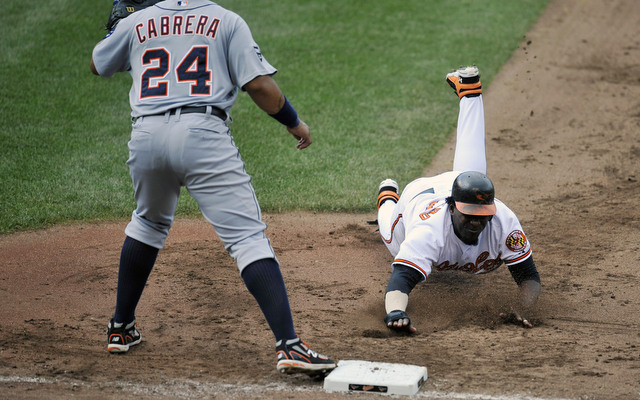 When the Tigers traded Prince Fielder to the Rangers a little more than a week ago, it was assumed the defensively-challenged Miguel Cabrera would shift back to first base next season. GM Dave Dombrowski did not commit to that plan, however. Here's what he told reporters following the trade:
"I think when you look at Miguel, and think of him in the future, you think of him at some point needing to go back over there to first base. The difficulty would be, as you look past a couple of years, if we're in a position where we could ever extend him, it would be a position where neither Prince nor Miguel liked to DH on a consistent basis. They're willing to go over there for a day or two, but they don't really like doing that, so if you're going to move forward with both of them on your club, the only way to really do that — if neither one of them want to DH — is to have Prince at first and Miguel at third. So (the trade) does create the flexibility (now)."
Cabrera, on the other hand, is on board with moving across the diamond and back to first base. He's let the team know that as well. Manolo Hernandez Douen of El Universal in Miggy's native Venezuela has the scoop (h/t Brian Manzullo of the Detroit Free Press):
"I've told the #Tigers I want to play 1B": AL two-time MVP @MiguelCabrera to Venezuelan daily newspaper El Universal (@EUDeporte)

— manolo hernandez d. (@beisbolporgotas) November 27, 2013
Position changes are tougher than they seem and I think the player buying into the move is very important. It helps that Cabrera has plenty of experience at first base, but if he didn't want to move to first and the Tigers put him there anyway, he might not be too happy. You want your star player to be happy. Based on Miggy's comments, this won't be an issue.
As Dombrowski said, the Tigers have some flexibility now. They could move Cabrera to first and play top prospect Nick Castellanos at third, his natural position. He moved into the outfield two years ago as the team looked for a way to get him in the lineup long-term. Detroit could also keep Cabrera at third, Castellanos in the outfield, and sign a free agent first baseman to a short-term deal, perhaps someone like Mike Napoli or Justin Morneau.
The juiciest plan would involve moving Cabrera to first and signing Robinson Cano with either Cano or Ian Kinsler playing third. It's unclear if (and seems unlikely) Detroit is open to handing out another massive contract so soon after dumping Fielder. Moving Cabrera to first, keeping Kinsler at second and playing Castellanos at third seems like the wisest move, both short and long-term. The Tigers could use the young bat in the lineup to supplement all the veterans.
Moving Cabrera back to first at this point of his career makes an awful lot of sense for both him and the team. The Tigers have the option to pursue a veteran third baseman or go with the kid, or they could get creative and move several people around. That flexibility is something they didn't have at all two weeks ago.
Will J.D. Martinez be Boston's next target?

Could catcher J.T. Realmuto be the next Miami player to be traded?

If the slow-play for Martinez, Hosmer and Arrieta sounds familiar, it should
The Nats will host the All-Star Game in 2018

The Orioles are looking to trade Machado heading into his walk year

The Cardinals have been linked for a while to the Baltimore star