Miguel Cabrera may need surgery to repair Grade 2-3 groin strain
Tigers slugger Miguel Cabrera will see a specialist to determine if he needs surgery to repair a Grade 2-3 groin strain.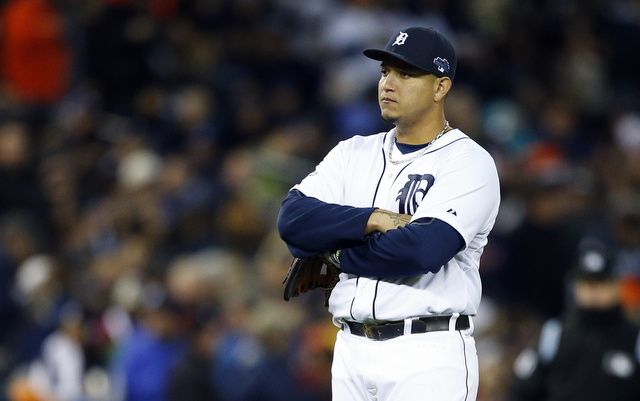 If you watched any of the ALCS, then you know it was obvious Tigers slugger Miguel Cabrera was not at 100 percent. Far from it. He was dealing with a hip flexor and an abdominal strain, and that was just the stuff we knew about.
On Monday, GM Dave Dombrowski told reporters Cabrera was dealing with a Grade 2-3 groin strain late in the year. He will see a specialist and may need surgery this offseason. No word on whether surgery would delay him at the start of spring training or even the 2014 regular season.
Cabrera, 30, played in at least 148 games for the 10th straight season despite the injuries. He hit 44 home runs with 137 RBI during the regular season while leading all of baseball in batting average (.348), on-base percentage (.442) and slugging percentage (.636). Miggy will repeat as AL MVP in all likelihood
In 11 postseason games, Cabrera went 11 for 42 (.262) with two home runs and nine strikeouts. It was most obvious he was unhealthy during the ALCS, when Red Sox pitchers consistently beat him with fastballs all series. His swing was all arms.
A Grade 2-3 strain indicates Cabrera was in discomfort if not outright pain pretty much every time he moved. A strain is a tear by definition, and a Grade 2 strain is a moderate tear while Grade 3 is severe.