Miguel Cabrera will have surgery to repair groin strain his week
After playing hurt for the last several weeks, Tigers slugger Miguel Cabrera will have surgery to repair a pretty severe groin strain on Tuesday.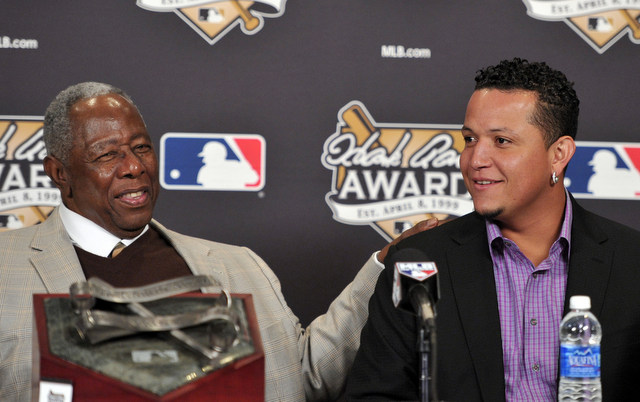 It was obvious Tigers slugger and likely AL MVP Miguel Cabrera was not healthy late in the season and during the playoffs, but it wasn't until last week that we learned he was playing through a Grade 2-3 groin strain. He will have surgery to repair the injury on Tuesday after being examined by a specialist.
"I don't know anything about the operation, I don't want to know the details, I just hope it heals fast. I am trusting that the doctors can fix the problem," Cabrera said to Enrique Rojas of ESPN Deportes. "I have a lot left in me."
A strain is a tear by definition, and a Grade 2-3 tear indicates a moderate to severe tear. Cabrera was likely in outright pain -- something more than discomfort, basically -- pretty much everytime he moved late in the regular season and postseason.
Cabrera was checked out by Dr. William Meyers in Philadelphia before the playoffs and was told he could not injure himself further by continuing to play. The rehab timetable for the surgery is unknown, so it's unclear if he'll be able to start spring training on time or have a typical offseason routine.
Cabrera, 30, played in at least 148 games for the 10th straight season despite the groin strain and other nagging injuries. He hit 44 home runs with 137 RBI during the regular season while leading all of baseball in batting average (.348), on-base percentage (.442) and slugging percentage (.636).
In 11 postseason games, Cabrera went 11 for 42 (.262) with two home runs and nine strikeouts. It was most obvious he was unhealthy during the ALCS, when Red Sox pitchers consistently beat him with fastballs all series. His swing was all arms.
Cabrera received the Hank Aaron Award as the league's top hitter for the second consecutive season on Sunday.
Then again, three trades in four days might be behind Jerry Dipoto's usual pace

Ohtani is arguably the best hitter and pitcher in Japan

The O's need rotation help, and Cobb is available for hire
The Red Sox and Cardinals are expected to make trade offers next

The free agent first baseman may be a fit in St. Louis

The front office changes in Atlanta continue