Miguel Cabrera's deal reminiscent of another slugger's deal
Does Miguel Cabrera's 10-year, gigantic contract remind anyone of another slugger right in the middle of a historic prime getting 10 years?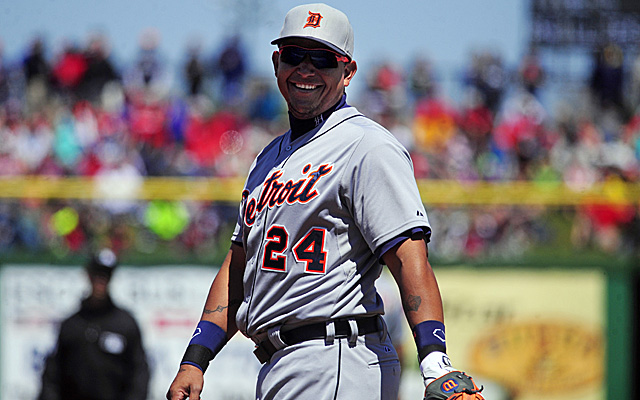 MORE: Tigers, Cabrera in agreement on monster extension
If you're gonna sign a player to a monster contract extension like this, you make sure he's the best hitter in baseball.
He is.
You make sure he's still in the thick of his prime. And coming off his age-30 season, he is. He's won two of the last three MVPs and finished in the top five in the third season.
We're talking about a player whose average season the past three years was a .331/.439/.635 line, good for a ridiculous 184 OPS+. He also averaged 42 home runs, 123 RBI, 43 doubles and 113 runs.
I am, of course, talking about Albert Pujols' career and how it stood after his age-30 season, which is exactly the same age season Miguel Cabrera just concluded.
Pujols would have a slight down year in 2011, though he finished fifth in NL MVP voting and won a World Series, before signing a 10-year, $240 million deal with the Angels.
Cabrera just agreed to an extension that means he now has a 10-year deal worth $292 million.
Before I go further, I must point out the obvious: Miguel Cabrera isn't Albert Pujols. They are two different human beings and therefore could possibly age quite differently. I get that. It's just that there are some pretty nice similarities through the age-30 season.
Here is the average season of each from ages 28-30:
Cabrera: .340/.427/.609, 177 OPS+, 38 2B, 39 HR, 127 RBI, 108 R
Pujols: .331/.439/.635, 184 OPS+, 43 2B, 42 HR, 123 RBI, 113 R
Here is Pujols' average per 162 games in three seasons since (we're going with that average due to Pujols only playing 99 games last season).
.283/.348/.505, 137 OPS+, 33 2B, 28 HR, 89 RBI, 80 R
Still pretty good, and Pujols dealt with injury woes last season. He's looking better this spring, too, but he also has eight years and $212 million left on his deal. He's 34 years old.
Again, I know Cabrera is different and the circumstances are different for every single player. I realize that Cabrera in several ways had the best season of his career last year while Pujols' best years came when he was 23, 28 and 29. I also realize that Pujols played one more year in St. Louis after his age-30 season before signing the aforementioned deal, so Cabrera has been extended one fewer year in his life than Pujols.
I'm just wondering if the Cabrera deal will look great here after two more seasons -- when he was previously set to become a free agent. Will he perform well enough the next two years that he would have warranted an eight-year, $248 million deal in free agency? This is a question to which the Tigers obviously answered, "yes."
On that front, good for Cabrera. He's obviously very happy, now has unbelievably good job security and has made a ridiculous amount of money in his career -- a sum the overwhelming majority of us dare not dream about having. I love it when the players get paid the big bucks as opposed to ownership grasping at every last dollar.
And, hey, you never know. After all, Cabrera's initial eight-year, $152 million deal with the Tigers has turned out to be a veritable bargain. Maybe the Tigers win back-to-back World Series sometime after these next two seasons and Cabrera ends up smashing some records in his mid-to-late-30s. These things alone would probably make the deal worth it in the end. I wouldn't doubt anything with this guy. He's that talented. He's out-of-this-world good and I'd never firmly bet against him.
Of course, I also remember thinking a lot of those same things with Pujols. And the mind can't help but wander.
If the MLBPA wants to fix MLB's economic system, it should push for more money for young p...

Fans aren't happy Gerrit Cole and Andrew McCutchen have been traded away

Acuna is arguably the best prospect in baseball
Kent had a good career, particularly with the bat

This would undoubtedly be the worst trade in Miami Marlins history

The Pirates recently shipped Gerrit Cole and Andrew McCutchen to Houston and San Francisco,...