Miguel Cabrera's loss of power a real concern for Tigers
Due to injuries, Tigers superstar and likely MVP Miguel Cabrera has only two extra base hits since August 26. It presents a tough problem for Detroit skipper Jim Leyland.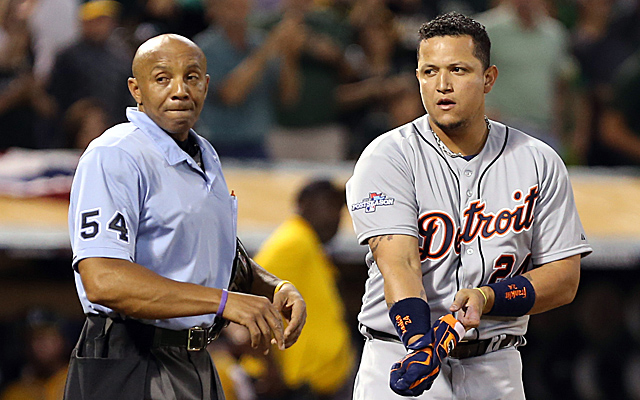 A's beat Tigers in walkoff fashion, even series: Quick hits
File this under things we never thought we'd be discussing. Tigers third baseman Miguel Cabrera -- the best hitter in the world and likely AL MVP for the second straight season -- appears to be a a major concern for the Tigers' World-Series-champion-or-bust season. And, again, in most unlikely fashion, the concern is with his power. Specifically, his lack thereof.
Wait, how in the world are we talking about this? We're talking about a guy who had 44 homers in the regular season and led the majors with a .636 slugging percentage.
Well, he's banged up. He's been dealing with groin and abdominal issues for the better part of a month. It shows, too, when watching him swing the bat. He's all arms. Even with his single to center in the first inning Saturday, he did nothing with anything below his chest. He was able to get a base hit because he's Miguel freaking Cabrera and he's an artist when he has a piece of lumber in his paws.
Here's the problem: Miggy in the three-hole for the Tigers is supposed to be much more than a singles hitter. That's what he is right now, though. He has just two extra-base hits since August 26 -- and the last week of August is when the abdominal issue surfaced. He doubled on Sept. 13 and homered on Sept. 17. Otherwise it's been all singles, walks or outs.
It's not a coincidence that the Tigers haven't scored a run since the first inning of Game 1, either.
The circumstance presents an interesting conundrum for Tigers manager Jim Leyland. He has Jhonny Peralta at his disposal. Peralta can play third. What about getting Cabrera off the field and just letting him serve as designated hitter? Maybe he'd heal a bit on the fly?
Uh, well, that means putting Victor Martinez on the bench. This is a guy who hit .336/.394/.490 with 27 doubles and 12 homers to close the regular season since the calendar turned to June. He also had a big Game 1 against the A's, including, you know, an actual extra-base hit.
But can the Tigers actually bench Miguel Cabrera?
No chance.
So that's where things stand. The best hitter in planet Earth is banged up and has lost his power. Taking him out of the lineup seems folly. Replacing him in the field means benching a guy who is right now more productive with the stick.
Seems like a no-win situation for Leyland unless the Tigers win the World Series. Any series loss, and the second-guessing begins. Good luck on the decision-making moving forward, Jim Leyland. You're gonna need it.
Watson will give the Giants a good left-handed reliever

Marcus Stroman doesn't appear affected by the arbitration hearing after all

Manny Machado is entering his first year as a big-league shortstop, but his heart wants what...
Miami-Dade County wants a piece of the $1.2 billion sale price

They'll be hoping for a major rebound from Anibal Sanchez

Rizzo's in the final year of his deal in 2018