Miguel Cabrera's numbers in last 162 games are crazy good
In his last 162 games, Miguel Cabrera is hitting .352/.435/.673 with 54 HR and 159 RBI.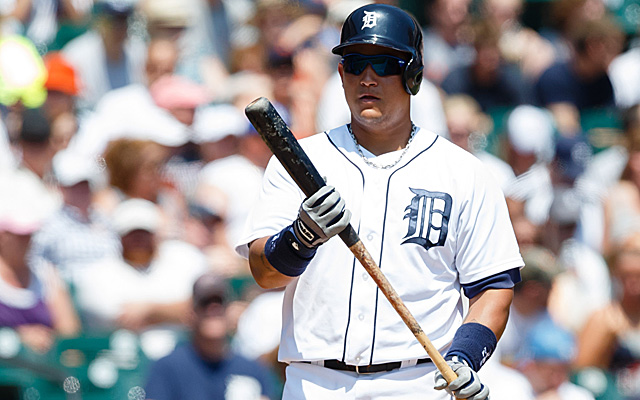 More MLB: Scoreboard | Standings | Probable Pitchers | Sortable Stats | Odds
Though it might be difficult to remember, Tigers slugger Miguel Cabrera in the first half last season was merely "one of the best hitters in baseball," and not yet "on his way to being one of the best hitters of all time." Around mid-July is when he decided to go superhuman Miggy on us.
So, just for fun -- and because it is, yes, a slow news day -- let's take a look at his last 162 games.
In the last 69 games of last season and so far in 93 games this season (93+69=162!), here's Cabrera's line:
.352/.435/.673, 54 HR, 159 RBI, 123 R, 217 H
In sorting through all of baseball history in cherry-picking fashion, guess how many players have ever had more than 50 homers, 155 RBI, 215 hits and an OPS of over 1.100 in a season? Zero. Ever.
Now, obviously Cabrera hasn't done it either, but he's done so in the past 162 games. That's worthy of even more praise.
Keep it locked right here for everything you need to know about the world of baseball Tues...

There have been several racially charged incidents at Fenway Park this year

Washington's right fielders have sputtered offensively since Harper went down
The good news? Wichita still has a chance to win the series Tuesday night

The 2017 season is going to shatter the all-time collective home run record

Ferrell somehow avoided going to the ground