Miguel Cabrera's record $292M contract not as crazy as it seems
The Tigers know what they are doing, and they know Miguel Cabrera forever.
MORE: Spring Training | Scoreboard | Team previews
The Tigers signed off on a $292 million commitment for Miguel Cabrera, the game's best player, so of course the outrage begins.
Sportswriters doubling as amateur economists immediately panned the deal as too much, apparently neglecting the fact that Cabrera is on a par with Hank Aaron as a hitter.
They say Mike Ilitch, who is estimated to have several billion, is a fool. They say he doesn't know what he's doing.
The man has many billions, he's some sort of fool all right. The sportswriters know better, of course.
I especially enjoyed the one fellow who said the Tigers "should have given Cabrera a three-year deal," as if Cabrera doesn't have any say in the matter.
No superstar signs a three-year deal that doesn't have a gun to his head. Cabrera is an all-time great, if not the greatest right-handed hitter of all time, then certainly in the argument.
What was everyone they expecting, the first bargain basement deal for an all-time great? When does that ever happen?
And unlike with other monster deals, the Tigers know what they are getting. They have lived through the best and less with Cabrera. They know he likes the city, the team, them. And they know the big ballpark doesn't mean a thing to him. Unlike with Albert Pujols and big free agents, there is no adjustment period, and thus less risk.
Now of course I don't know if the Cabrera deal will look like a bargain 10 or even 12 years from now (as reported here, there are two vesting options at $30 million apiece for years 11 and 12 so the deal could reach $352 million in total). But I do know the track record of Ilitch and Tigers president and general manager Dave Dombrowski.
 If it isn't immaculate, it's as close as it comes.
No team has done a better job than the Tigers of procuring star talent through trades, and practically no team has done a better job of picking the right players to give the best contracts to, either.
When Ilitch and Co. gave $40 million over four years to Pudge Rodriguez when no one was going to be close to that figure, everyone panned that deal. And it helped turn around the Tigers, cellar dwellers at the time of the deal.
When Ilitch and Co. gave $75 million over five years to Magglio Ordonez, who had questionable knees, and who even went overseas to be operated on, everyone gasped. Ordonez quickly won a batting title and proved to be an excellent investment.
When Ilitch and Dombrowski gave $152 million to Cabrera soon after his arrival in Detroit, folks wondered whether Cabrera would settle down off the field and dedicate himself to make that a worthwhile signing. It turned out to be one of the better long-term deals in baseball history.
When Iltch insisted that the team go the extra few dollars and give Anibal Sanchez $85 million, some believed it to be a little too much money. But Sanchez won an ERA title last year, his first year after that deal, making it look almost like a steal.
Looking at the record of Ilitch, Dombrowski, assistants Al Avila (who originally signed Cabrera for the Marlins) and John Westhoff, there are far more hits and misses. Yet sportswriters keep bashing them for being off base.
In fact, of all their major trades and signings, the only one that looks today like an overpay is the $214 million, nine-year Prince Fielder deal, and that's only because it's proven to be an overpay. The Tigers had to chip in $30 million to trade him for Ian Kinsler. And Fielder still proved worthy lineup protection for the great Cabrera, playing at least some significant role in helping him put up historic and monster numbers two straight years.
It isn't often a hitter wins the Triple Crown, then follows that up by putting together a second comparable season, as Cabrera did.
In a way, Cabrera actually had a quadruple crown last year, finishing first in batting average (.348), on-base percentage (.442), slugging percentage (.636) and OPS (1.078). He also gets a pseudo quintuple crown for finishing in the top five in MVP voting an insane five years running.
Yet, sportswriters were so sure the Cabrera contract is a mistake, they said so. Really? What do they think Cabrera is worth? Three years?
Who's to say he isn't a $50-million player as a free agent in two years? Who's to say he couldn't leave Detroit the way other superstars have left their previous teams?
If you are Ilitch, an 84-year-old multi-billionaire, why take that chance? Of course you reward the all-time great who has graced your clubhouse for years, making your team a big story and a perennial American League favorite for many years after it had been a joke a decade ago.
The only reason this contract seems like a surprise is that word was out that Cabrera wanted to stay in Detroit, with the Tigers and the same executive staff that raised him practically from a 16-year-old in Venezuela. While with the Marlins, Avila and his scouts hit the grand slam of a career by beating out the Dodgers and other teams, signing him to a bonus baby contract as a kid, then watching him grow into a man. There was a time or two he had an off-field setback, but they all got through it together.
There's no doubt Cabrera's longtime agents Fern Cuza and Diego Bentz maximized this deal, striking at the right time, off two straight MVPs and getting a record $248 million extension and $292 million commitment, a deal worthy of baseball royalty. They are to be applauded for not leaving a dollar on the table when Cabrera still had two years to go on his contract, and when everyone knew he wanted to stay in Detroit.
There's also little doubt they benefited by the Fielder deal. After all, if Fielder, an excellent player but no Cabrera, gets a nine-year deal, how can Cabrera get less? Cuza and Bentz obviously used everything at their disposal in securing the deal Cabrera deserved. So kudos to them.
They also may have benefited a bit by some backlash in Detroit after it failed to lock up Cy Young winner Max Scherzer to a long-term deal. The Tigers, after all, had traded Fielder and Doug Fister to position themselves to extend both Scherzer and Cabrera.
With the Scherzer talks falling through after they offered $144 million over six years, they almost had to lock up Cabrera. Not that that's a bad thing.
 He is, after all, an all-time great, in the class of Aaron, Stan Musial, Ted Williams and legends as an offensive force. At times like this, blinded by dollar signs, some of us tend to forget that.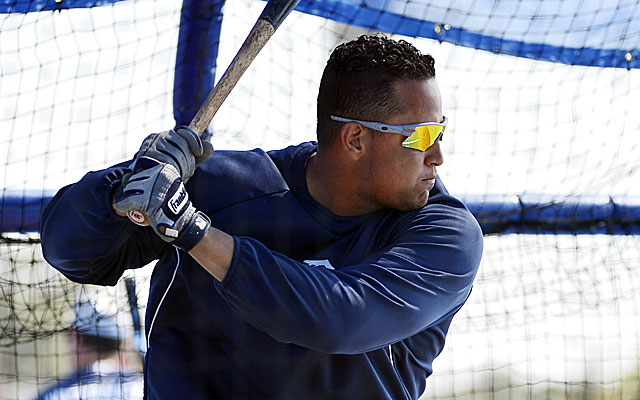 Neither Josh Donaldson nor Brian Dozier have talked about a new contract extension

Francisco leads the Dominican Winter League with seven home runs

Thome deserves enshrinement and here's why the case against him does not hold up
The Twins have already fortified the bullpen with Addison Reed, and now they want to address...

The Orioles likely want pitching, and the Indians have plenty of it

Halladay died in a November plane crash off the coast of Florida