Miguel Olivo walks out on Marlins, is placed on restricted list
After three requests for his release, Marlins third-string catcher Miguel Olivo has walked out on the team and been placed on the restricted list. He can't sign elsewhere.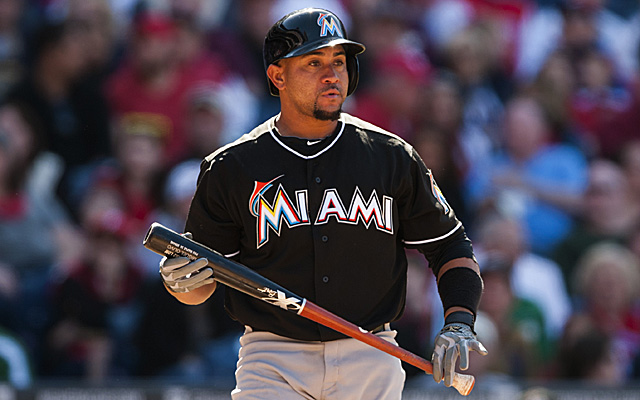 More MLB: Scoreboard | Standings | Probable Pitchers | Sortable Stats | Odds
Mounting with frustration due to very little playing time and not being granted his request for a release, Marlins catcher Miguel Olivo walked out on his team. In return, the Marlins still didn't release him and instead placed him on the restricted list.
"I told them I wanted to be released and they wouldn't give it to me," said Olivo (miamiherald.com). "I don't understand why they don't release me. I told them I wanted to be released because I have 30 days of not playing. I need to play."
Olivo, 34, has only 18 plate appearances in the past month as Jeff Mathis and Rob Brantly have been splitting time behind the plate, relegating Olivo to third-string catcher status. The overwhelming majority of big-league teams only carry two catchers.
"I don't understand," Olivo said (miamiherald.com). "If I'm not doing nothing, I don't understand why they keep me doing nothing. Let me go. Right now they're going to make me look bad, and I'm not. I hope people understand. I just want to play baseball. They have three catchers."
Olivo has reportedly been told he's around for pinch-hitting duty, though he's only hitting .203/.250/.392 this season. Though I don't condone quitting under these circumstances, it is hard to figure why the Marlins are so insistent on not releasing Olivo. They're the worst team in baseball, he's not a good player and they have an extra catcher on the roster. Just set him free and be done with it.
Instead, Olivo is on the restricted list, so he's not getting paid and cannot seek employment elsewhere.
Dodgers manager Dave Roberts on Sunday announced his World Series rotation for the first four...

How should the Astros play it when one of their two aces isn't on the mound against the Do...

The former big-league infielder also worked as GM of the Puerto Rico national team
The Indians pitching coach would be getting his first MLB managerial job

In the last several years, lots of droughts have ended in MLB

The most likely scenarios are Dodgers winning in five or six games