Miguel Tejada case illustrates 'upside' of PED use
Miguel Tejada went from a poor kid in the Dominican Republic to someone who made almost $100 million playing baseball. That's the "benefit" of using PEDs.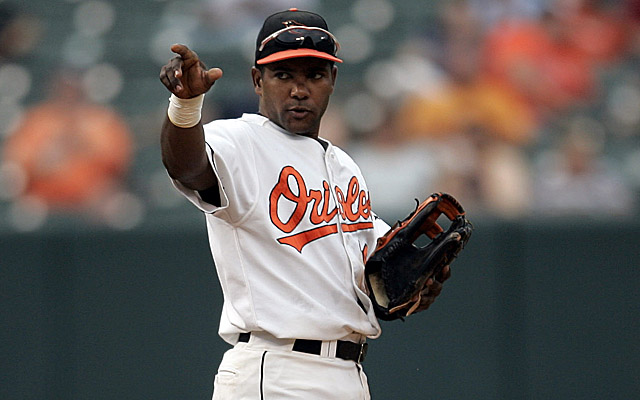 Related: Tejada suspended for 105 games for amphetamines
Miguel Tejada was born in Bani, Peravia, Dominican Republic. And he was born into poverty.
Should his career be over -- I'd guess it is -- he's now less than 40 years old and has made over $96 million playing baseball for a living over the course of 16 seasons.
Simply put: It's not difficult to understand why players use any substance that might aid performance.
Let's just think about it logically.
You're a 14-year-old boy living in poverty in the Dominican Republic. You love playing baseball. You have a chance at not only escaping poverty, but at having the chance to make more money then you'll ever know what to do with. It's like the "red pill or blue pill" scene in The Matrix. It's pretty easy to sit here are our computers and pass judgment on a guy for doing something we'd surely never, ever even think about doing, right? After all, we're so moral, we wouldn't even think about it, right?
Remember, we're not talking about the Mafia here. It's amphetamines -- and maybe more substances -- not murder. We're not talking about giving guns and crack to little kids. We're talking about Adderall.
Considering all the times he's been connected to PEDs throughout the past decade or so, it's a reasonable argument to believe Tejada has been doing things pretty much throughout his entire career to aid performance, including possibly using steroids. He now has almost 100 million reasons why he chose his path.
If you want to judge him for that, go ahead, but we need to at least understand why it happened. It's not complicated. I'd be hard pressed to believe many people who claim they would choose poverty over $96 million -- without even mentioning all the perks of being an All-Star-caliber Major League Baseball player. If I'm being honest with myself, I could never say for certain what I'd have done -- I've never been in the situation, after all. I refuse, however, to sit here and pretend I know for certain I wouldn't have chosen his path had I been put in his shoes. I don't know that. Some might know they'd have definitely chosen poverty.
I don't know. And from that angle, it's hard for me to chastise guys like Miguel Tejada. That doesn't mean I support him or even like him. He's obviously a liar, and that's not OK. He could have been a much better person for years on, at the very least, that front alone. I'm just saying I'm staying off my high horse regarding the greenies. I've never walked in his childhood shoes.
The Orioles, Blue Jays and Rays have star players they should use toward rebuilding for the...

The Yankees may not be done collecting stars

The team could instead use a closer by committee approach
Both Seung-Hwan Oh and Trevor Rosenthal are free agents

The Yankees may plug their third base hole with a familiar face

Darvish's poor World Series hasn't scared the Dodgers away