Mike Napoli back to being an offensive force for Red Sox
After a sluggish start to the postseason and a one-game stint on the bench, Mike Napoli is back to mashing in the middle of the Red Sox lineup.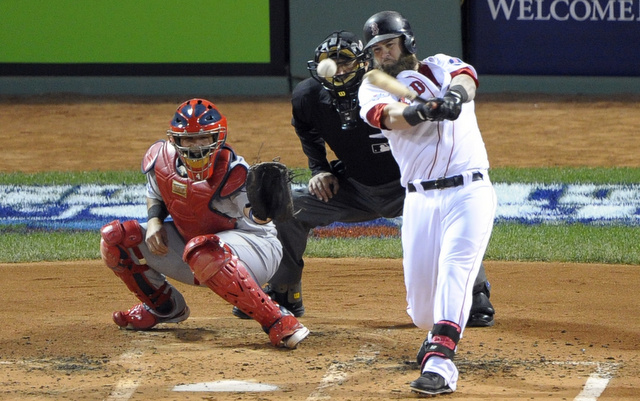 The Cardinals made the mistake of giving the Red Sox extra outs via fielding errors in the early innings of World Series Game 1 on Wednesday, mistakes that came back to haunt them. Of course, Boston deserves credit for capitalizing on those mistakes, which they did when Mike Napoli cleared the bases with a double in the first inning.
Napoli is no stranger to postseason heroics. He went 19 for 58 (.328) with three home runs and 15 RBI during the Rangers' run in 2011, including a 7-for-20 (.350, 10 RBI) showing in seven games against the Cardinals in the World Series. As the story goes, Napoli would have been named Series MVP had his teammates played better and won the Fall Classic.
For the first six games of this postseason, Napoli was anything but a hero for the Red Sox. He went 2 for 13 (.154) in four ALDS games against the Rays before going 0 for 3 with three strikeouts in Game 1 of the ALCS against the Tigers. He was going so poorly that manager John Farrell sat him in favor of Mike Carp in Game 2.
That day on the bench seems to have done the trick. Napoli hit a solo homer off Justin Verlander in Game 3, the only run in the Red Sox's 1-0 victory. He had two hits (including a double) in Game 4 and then three hits (including another double and a homer) in Game 5. Following an 0 for 4 in the series-clinching Game 6 win, Napoli had the big three-run double in Game 1 of the World Series on Wednesday.
Since being benched, Napoli has gone 7 for 20 (.350) with three doubles, two homers and five runs driven in. All seven hits have come against right-handed pitchers, good ones too: Verlander, Doug Fister and Adam Wainwright. That's a positive sign for Napoli, who managed a .248/.353/.464 line against righties this year compared to .284/.376/.523 vs. lefties.
The Red Sox have a great offense from top to bottom, but some players were struggling earlier in the postseason. It wasn't just Napoli, it was also Dustin Pedroia and even David Ortiz, who didn't do much of anything in the ALCS aside from his game-tying grand slam in Game 2.
Napoli's bat has come around these past five games, making Boston's lineup that much deeper. These guys are hard enough to pitch to when one or two guys are slumping, but when everyone in the middle of the order is going, they're close to unstoppable.
The lefty starter is coming off a terrible season

After acquiring Ian Kinsler and Zack Cozart in recent days, the Angels are trending upward

Cozart's coming off a big season as the Reds' shortstop
The veteran slugger spent the last eight seasons with Cleveland

The Padres may be poised for an active winter

Yes, Bryce Harper is going to make a lot of money next winter