Mike Trout's new deal with Angels appears mutually beneficial
Mike Trout and the Angels have agreed upon an extension that should make both sides very happy.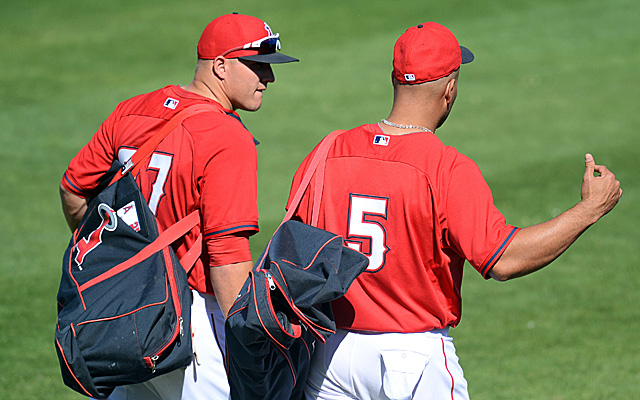 MORE: Mike Trout, Angels agree to six-year, $144.5 million deal
Just one day after we heard of Miguel Cabrera's monster extension with the Detroit Tigers, we naturally heard about Mike Trout's extension with the Angels. These two are just gonna be tied together at the hip, aren't they?
Though just as the two stud players' games are apples and oranges type great, so were their respective deals.
Trout's deal pales in comparison to Cabrera's, but we can't judge the deals on the same playing field because of how Major League Baseball's system is set up. Specifically, Trout didn't necessarily get short-changed here. This was a mutually beneficial deal.
Trout is playing this season in a pre-arbitration year. He's getting paid $1 million to do so and that's a record. Next season he was set to enter arbitration and the record for a first-year arbitration salary was $10 million.
Now, to be certain, Trout was going to shatter the arbitration scale if he went through three years of it -- which wasn't likely from the get-go -- so it's tough to even guess what might have happened. For the sake of argument, let's just say Trout was able to land around $60 million in his three arbitration years. That would leave $84.5 million for Trout's first three free agency years, or an average annual value of $28.17 million per season.
Considering Trout is the best all-around player in baseball and probably still will be in those three years, something more in the range of $35M-$40M for those first three free agency years might be reasonable by then.
Of course, if you're Trout, this is where the questions should begin.
I know that professional athletes are supremely confident. They should be. They earned that right. I know that Trout is special and is probably even more sure of himself than other pros are. Again, he should be. He's that freaking good.
But doesn't the "what if" factor creep in a bit when someone offers you $144.5 million?
It's not so much that Trout might be worried he'll flame out. My guess is that doesn't even enter his mind. It shouldn't.
What about injury, though? Let's say he passes on this contract, eyeing a $450 million deal when he hits free agency -- and at this rate, that might be conservative -- and then a car accident ruins his career or he gets hit in the eye with a pitch.
He left $144.5 million on the table, that's what.
And now that the dire/doomsday/heaven forbid stuff is out of the way, let's consider the everyone loves everyone else/happy side of things for Trout: He's still set to hit free agency at age 29.
So we play the what if game again, only this time it's magical.
What if he keeps doing what he did the past two years? What if he gets better? After all, most 22 year olds are still in the minors, many in the lower levels. Trout's already had two MVP-caliber seasons (settle down, Miggy fans. One can have an MVP-caliber season without winning, like Cabrera did in 2009 ... and 2010 ... and 2011). 
If Trout gets even marginally better heading into his age-29 season, he'll be on his way to being one of the greatest baseball players in history. He'll also be looking at free agency in the middle of his prime.
Albert Pujols got 10 years and $240 million heading into his age-32 season. Miguel Cabrera has 10 years and $292 million left on his deal and he's 30. Robinson Cano got 10 and $240M and he's 31.
Trout will be 29. And salaries are only increasing.
As for the Angels' side, it's pretty simple.
They have the best all-around player in baseball for an average of $24.1 million through the middle of his prime -- and that doesn't even count only paying him $1 million this season (if we throw that in, they have Trout for seven years at about $20.79M per year). They get to avoid possibly contentious arbitration negotiations and/or hearings each year while also putting off the free agency headache for three years after that.
Within the next seven years, the Angels have time to watch what Trout becomes while also working on the roster around him.
If Trout continues to play like one of the greats, the Angels can revisit this thing again in five years and maybe do what the Tigers did for Cabrera. If Trout starts to fade, they can decide what to do from there (trade, smaller extension, let him walk, etc.).
For now, though, the Angels don't have anything to worry about when it comes to Mike Trout. Meanwhile, Trout has been set up for the rest of his life, financially, no matter what happens with his game or his health. That's mutually beneficial right there. 
And the cherry on top for Trout? It probably wasn't even a fraction of what his biggest payday will eventually be. Just ask Miguel Cabrera, who signed an eight-year, $152 million deal when he was 25.
Despite an awful month, the Dodgers are again NL West champions

The record of 38 previously belonged to Hall of Famer Frank Robinson

The report also says that Jeter had outgoing president David Samson do the firing
This wasn't a traditional hidden ball trick, but the Blue Jays pulled it off

The Tigers essentially fired Brad Ausmus on Friday, but things are going to be ugly for a...

The club made the announcement on Friday