Minor-league fan goes after Brandon Inge with peanuts, beer, words
A fan in Toledo at a Triple-A game threw peanuts and eventually beer in the direction of Brandon Inge while also exchanging words with the now-Pirates farmhand.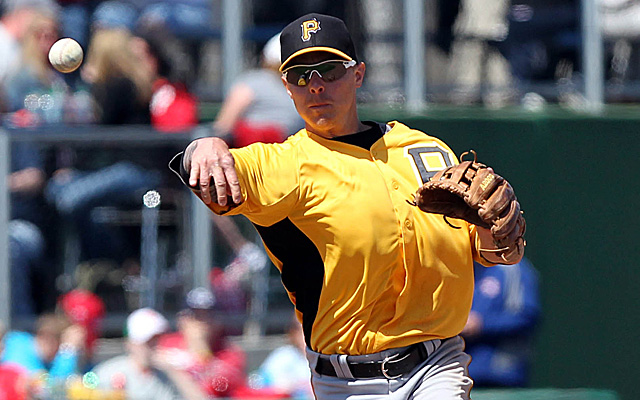 More MLB: Scoreboard | Standings | Probable Pitchers | Sortable Stats | Odds
Brandon Inge is currently playing for the Indianapolis Indians, the Triple-A affiliate of the Pittsburgh Pirates, but he spent the overwhelming majority of his professional career in the Tigers' system. And that included 177 games for the Triple-A Toledo Mud Hens.
And it would appear at least one Mud Hens fan, who was at Tuesday night's game, didn't grow to love Inge over the years.
According to eyewitness reports, in the early innings of the contest the unidentified fan was throwing peanuts at the Indians' Brandon Inge, who spent significant time with both the Detroit Tigers and Hens.

Before the fifth inning began, the fan came to railing on the far side of the Indianapolis dugout and exchanged words with Inge. A number of Inge's teammates came to his defense, with several attempting to jump the railing that separated them from the fan. The fan was escorted out of the ballpark but attempted to throw beer on the Indians before leaving.
Ah, Ballpark Tough Guy, a not-so-distant relative of Internet Tough Guy.
A message to those who think this is cool: It doesn't make you tough to throw objects at people when there's a barrier in between. It doesn't make you tough when you challenge players to a fight, because they have nothing to gain by going into the crowd. All this does is make you an insufferable jerk and, frankly, an embarrassment.
And while Brandon Inge was never a great baseball player, he had a nice career and has earned more than $40 million in doing so. Wear it, peanut-and-beer-throwing clown.
UPDATE: The incident has resulted in a player being suspended:
Note from Tuesday's fracas at FTF: IL has suspended Indy's Jerry Sands 1 game for "trying to enter the stands."

— JWagnerBlade (@jwagnerblade) April 17, 2013
Sands, 25, went from the Red Sox to the Pirates in the Joel Hanrahan trade. He's a .244/.325/.376 hitter in 70 career big league games.
Hat-tip: Hardball Talk