Minor-league team recreating Disco Demolition Night
A minor-league team is recreating Disco Demolition Night with Miley Cyrus and Justin Bieber albums and merchandise.
More MLB: Power Rankings | Expert Picks | Latest news & notes | Fantasy news
A few days ago we noted the 35th anniversary of Disco Demolition Night, the most infamous and ill-advised promotion in baseball history. Long story short: the White Sox blew up (literally) some disco records on the Comiskey Park field before all hell broke loose.
This Saturday, the Charleston RiverDogs (Yankees) of the Class A South Atlanic League are recreating the promotion and holding what they're calling "Disco Demolition 2." The twist: they will destroy Miley Cyrus and Justin Bieber albums and merchandise. Here's the promo: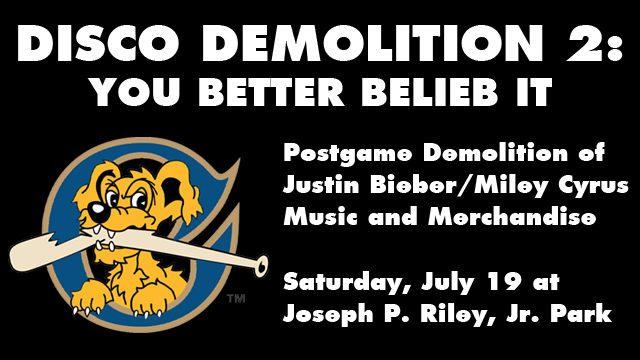 The on-field destruction will take place following the team's scheduled game against the Augusta GreenJackets (Giants). Here's more from the press release:
"Like so many, we have taken special exception to Justin Bieber and Miley Cyrus's music along with his numerous run-ins with the law and her controversial performances," said RiverDogs General Manager Dave Echols. "'Disco Demolition 2' is dedicated to the eradication of their dread musical disease, like the original Disco Demolition attempted to do. We are going to take Bieber and Cyrus's merchandise and memorabilia, put it in a giant box, and blow it to smithereens. It is all in good fun, and we guarantee there won't be a forfeit of a game." 
Fans who bring Justin Bieber and Miley Cyrus items to the game will receive a $1 ticket. There will be pump-up video montages played throughout the game as well. The RiverDogs also say they will no longer play Bieber and Cyrus music at the ballpark, which is a win for everyone.
Hopefully the recreation of Disco Demolition Night goes a bit more smoothly than the original. I'm sure it will.
Maxwell joins a growing movement across sports

The Yankees punched their ticket to the playoffs with a win over the Blue Jays on Saturday

Sabathia's stance seems to be an increasingly popular one among athletes
Plus the A's and Brewers have hope, Giancarlo goes deep again, and much more

Matt Chapman and Matt Olson give the A's hope

Despite an awful month, the Dodgers are again NL West champions