MLB and BBWAA announce finalists for MVP, Cy Young and other awards
MLB and the BBWAA announced three finalists for each of the four major awards -- MVP, Cy Young, and both Manager and Rookie of the Year -- on Tuesday.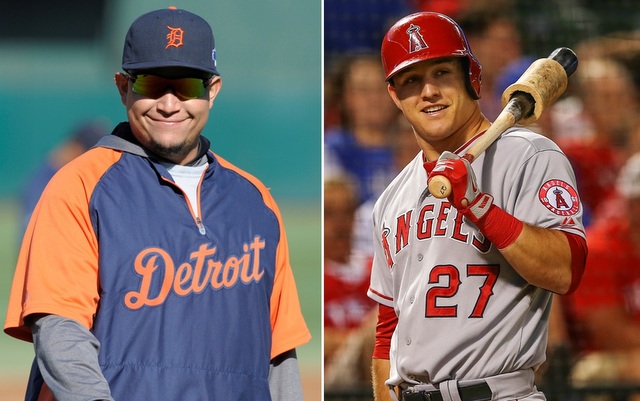 Starting next Monday, Major League Baseball and the Baseball Writers Association of America will announce the annual end-of-season awards. Here are the finalists for each of the four major awards, which were announced live on MLB Network on Tuesday night (finalists listed alphabetically):
ROOKIE OF THE YEAR (announced Nov. 11)
AL - Chris Archer ( Tampa Bay Rays ), Jose Iglesias ( Detroit Tigers ) and Wil Myers (Rays)
NL - Jose Fernandez ( Miami Marlins ), Shelby Miller ( St. Louis Cardinals ) and Yasiel Puig ( Los Angeles Dodgers )
MANAGER OF THE YEAR (announced Nov. 12)
AL - John Farrell ( Boston Red Sox ), Terry Francona ( Cleveland Indians ) and Bob Melvin ( Oakland Athletics )
NL - Fredi Gonzalez ( Atlanta Braves ), Clint Hurdle ( Pittsburgh Pirates ) and Don Mattingly (Dodgers)
CY YOUNG AWARD (announced Nov. 13)
AL - Yu Darvish ( Texas Rangers ), Hisashi Iwakuma ( Seattle Mariners ) and Max Scherzer (Tigers)
NL - Fernandez, Clayton Kershaw (Dodgers) and Adam Wainwright (Cardinals)
MOST VALUABLE PLAYER (announced Nov. 14)
AL - Miguel Cabrera (Tigers), Chris Davis ( Baltimore Orioles ) and Mike Trout ( Los Angeles Angels )
NL - Paul Goldschmidt ( Arizona Diamondbacks ), Andrew McCutchen (Pirates) and Yadier Molina (Cardinals)
They're alive in the NLCS after their Game 4 win over the Dodgers

You never know what you might get from Arrieta, but what we got was brilliance in Game 4

The 2017 World Series begins Oct. 24
There will be a Game 5 after all on Thursday night

Tanaka shut the Astros down in ALCS Game 5 and has overcome a down season and past injurie...

The Yankees wouldn't chase Keuchel's bread-and-butter, those tempting pitches just at the knees...