Monday night, Cubs third baseman Kris Bryant and Astros shortstop Carlos Correa were named the 2015 Rookies of the Year. Bryant won unanimously while Correa narrowly edged out Indians shortstop Francisco Lindor.
The Rookie of the Year ballot runs three players deep. There are 30 voters for each league and the award is based on a points system. A first place vote nets you five points, a second place vote is worth three points, and a third place vote is worth one point.
Courtesy of the Baseball Writers Association of America website, here are the voting results for the 2015 NL Rookie of the Year:

Giants third baseman Matt Duffy easily edged Pirates infielder Jung Ho Kang for the runner-up spot. Mets righty Noah Syndergaard wasn't too far away from jumping into the top three. That he finished fourth in the voting shows how incredible the 2015 NL rookie class is.
Now here are the individual NL Rookie of the Year ballots. These are how the individual voters filled out their three-man ballot: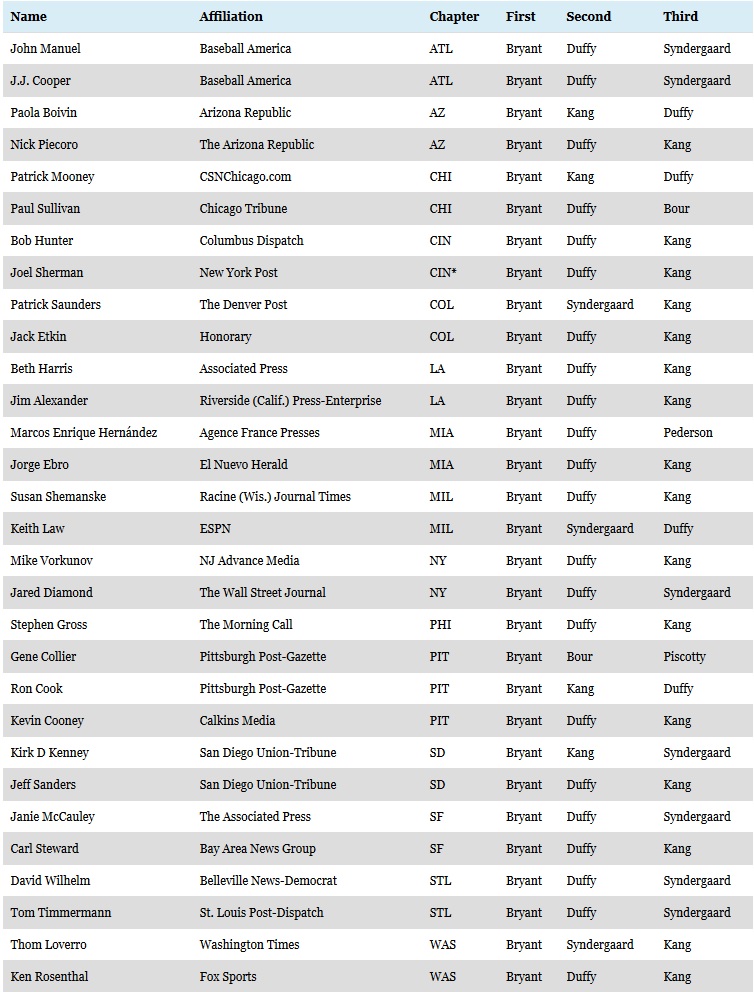 Once again, courtesy of the BBWAA website, here are the voting results for the 2015 AL Rookie of the Year race. This was much, much closer than the NL race.

Like I said, Correa narrowly edged out Lindor. Either player could have won the award and I don't think too many people would have argued. Lindor actually beat Correa in WAR (4.6 to 4.1) while Correa had the edge in power numbers. Both had tremendous seasons.
Twins third baseman Miguel Sano finished a distant third place in the AL voting. Blue Jays closer Roberto Osuna wasn't too far behind him and finished fourth. Now here are the 30 individual AL ballots submitted by the voters.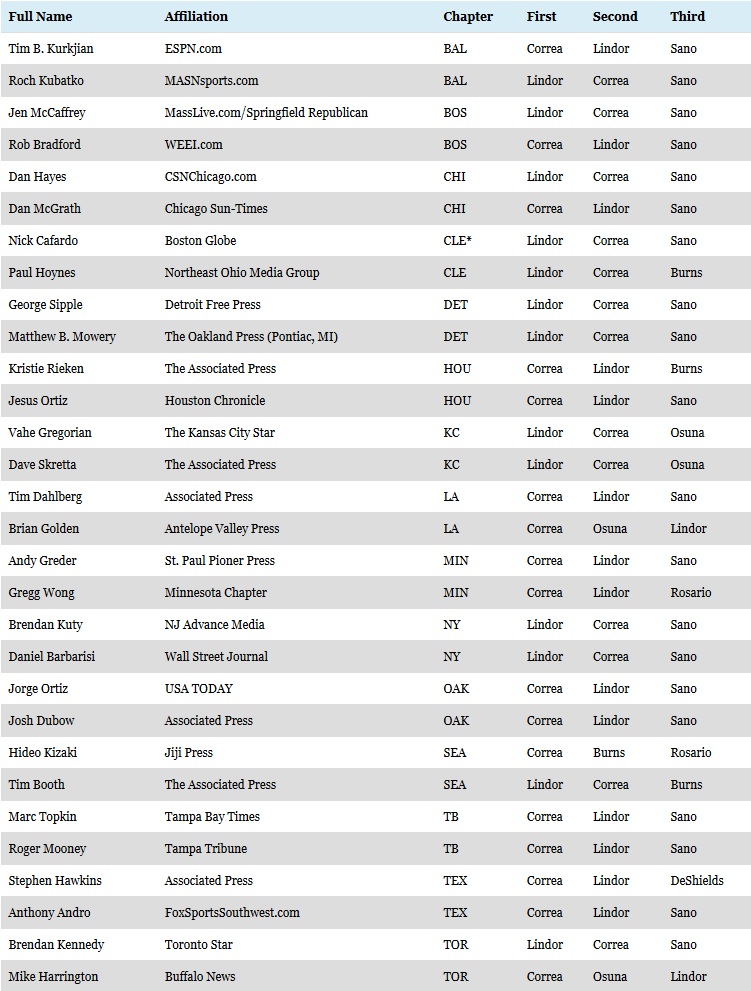 As a reminder, these are regular season awards only. What each player did or didn't do in the postseason has no impact. Votes are submitted following the end of the regular season but before the start of the postseason.
The Manager of the Year awards will be announced Tuesday. Cy Youngs follow Wednesday and MVPs follow Thursday. Here are the finalists.