MLB bans loom Monday for A-Rod, 12 others -- including three new names
The Yankees have been told Alex Rodriguez will be suspended Monday. Twelve others, including three new names, will also face banishment.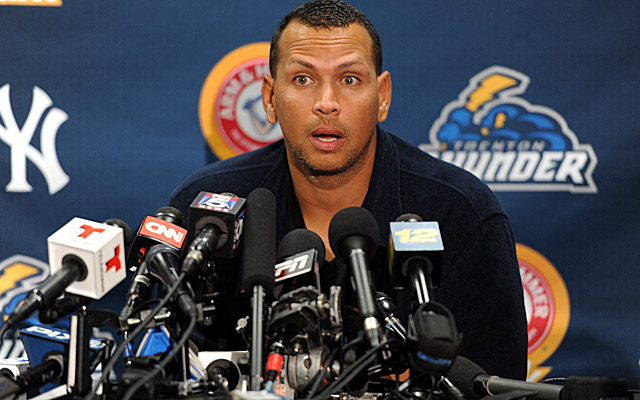 Suspensions for Alex Rodriguez and 12 others in the Biogenesis cases are expected to be announced Monday, according to people familiar with the case. At least in the case of Rodriguez, the Yankees indeed have been notified that he'll be suspended Monday.
With no evidence yet that Rodriguez is trying to negotiate down his suspension offer in the final hours, he's expected to be suspended through the 2014 season when the penalties are announced around noon or 1 p.m. ET Monday. A-Rod's camp is aware that the MLB suspension will go through '14, meaning 214 games.
Twelve others, including three new names, are thought to be on the suspension list.
If Rodriguez appeals, as now assumed, he'll be able to play Monday. Commissioner Bud Selig decided not to go to the extreme measure to invoke the "best interests" clause from the Collective Bargaining Agreement, which could have kept A-Rod off the field. So it looks like he's likely to play Monday in Chicago for the Yankees.
Tigers shortstop Jhonny Peralta, Mariners catcher Jesus Montero, Rangers outfielder Nelson Cruz, Padres shortstop Everth Cabrera and Yankees catcher Francisco Cervelli are among major-leaguers expected to be suspended, as are minor leaguers Fernando Martinez, Jordan Norberto, Fautino de los Santos and Cesar Puello. Three other players whose names haven't become public are believed on the suspension list as well.
All or almost all of the other 12 players are expected to accept 50-game penalties, though there could be an additional holdout or two for appeal beyond Rodriguez. All the players have had the option to appeal, but it is believed close to all of them have made agreements for 50-game bans with MLB. Players who appeal are eligible to keep playing until their case is heard.
A-Rod has for days had the option to accept a ban through 2014, and while he has suggested he would accept some penalty, according to people familiar with the case he has said he should receive "less than (Ryan) Braun," who received 65 games and never came close to signaling a willingness to accept anything close to the 214 games left through 2014. There's no belief a lifetime ban is being considered now.
Melky Cabrera, Bartolo Colon and Yasmani Grandal will not be suspended in connection with Biogenesis, as they all served 50-game penalties already. Neither will Nationals pitcher Gio Gonzalez, whose name was in earlier news reports but is not linked to Biogenesis PEDs.
With no evidence of late negotiation, Rodriguez appears likely to appeal his ban for the 214 games remaining through the end of '14. With MLB commissioner Bud Selig apparently deciding not to enforce the "best interests" clause to force A-Rod off the field immediately, Rodriguez could return to play for the Yankees Monday in Chicago.
As Scott Miller reported, Yankees manager Joe Girardi said Rodriguez has been "penciled in" to the lineup for now.
Should Rodriguez keep playing while on appeal, then lose the appeal,  baseball's arbitrator Fredric Horowitz potentially could keep the ban going into the 2015 season to ensure 214 games are served.
GM Sandy Alderson said he followed his manager's recommendation

A report indicates the Rays are listening to trade offers on Chris Archer and Evan Longori...

Scott missed almost all of last season after a concussion
The superstar is one year away from free agency

The Angels knew about it and still wanted to sign the potential ace, of course

The Tigers asking price is supposedly very high, though