MLB changes error, gives Ortiz a hit following Darvish's near no-hitter
MLB has overturned the controversial error in Yu Darvish's near no-hitter, instead crediting David Ortiz with a hit.
More MLB: Power Rankings | Expert Picks | Latest news & notes | Fantasy news
A few days ago Rangers ace Yu Darvish flirted with a no-hitter against the Red Sox, but only after he lost the perfect game when this David Ortiz blooper fell between rookie second baseman Rougned Odor and outfielder Alex Rios: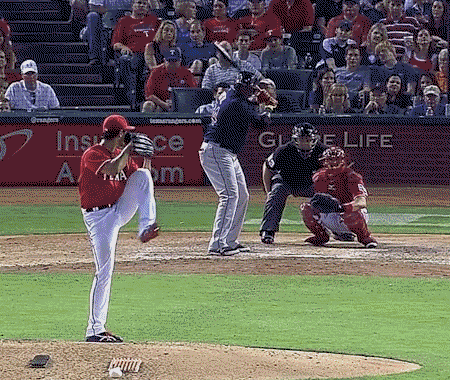 I'm sure you remember that. The play was ruled an error and the call was rather controversial, at least for a few minutes. Ortiz broke up Darvish's no-hitter with a legitimate ground ball single with two outs in the ninth inning. It's the second time Darvish has lost a no-no with two outs in the ninth since last April.
Following the game, Ortiz officially appealed the scoring decision on the error because he wanted the hit. MLB  announced on Wednesday that they have overturned the call, changing the error to a base hit. Darvish's one-hitter is now a two-hitter.
To his credit, Ortiz said he would not have appealed the error had Darvish completed the no-hitter. That wouldn't have stopped everyone from arguing about it, of course.