MLB enacts domestic violence, sexual assault and child abuse policy
Commissioner will have wide latitude in punishing players.
For the first time since collective bargaining began, the commissioner of Major League Baseball will be empowered to discipline individual players for acts of domestic violence, sexual assault and child abuse. Along with the announcement of the establishment of a joint committee that will be tasked with evaluating and (if necessary) supervising the treatment of a player, commissioner Rob Manfred will be given power to punish the player as he sees fit. No maximums, no minimums. And that's regardless if the player is convicted or enters a guilty plea in a legal case.
Intervention, treatment and confidentiality provisions also are written into the agreement, which was announced jointly by the commissioner's office and the players union.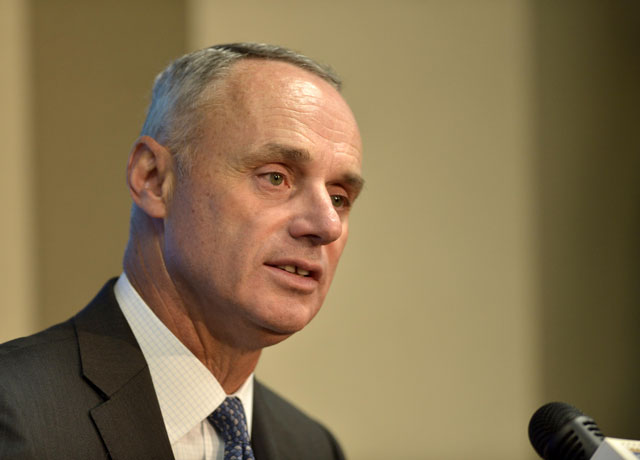 The NFL has a personal conduct policy that is supposed to cover similar issues, but league commissioner Roger Goodell has undergone mass criticism of how he and the league handle individual cases, such as that of Ray Rice. The NBA also has written policies covering personal conduct -- which, it's been said, need improvement -- but the league has received praise for how it handled a recent case involving Jeff Taylor.
The highest-profile domestic violence case recently involving an MLB player probably is that of Milton Bradley and his ex-wife, Monique Bradley. How that unfolded is likely a big reason why MLB and the players union came to this agreement.
MLB made its announcement Friday, with Manfred saying in a statement:
"Major League Baseball and its clubs are proud to adopt a comprehensive policy that reflects the gravity and the sensitivities of these significant societal issues. We believe that these efforts will foster not only an approach of education and prevention but also a united stance against these matters throughout our sport and our communities."
MLBPA Executive Director Tony Clark said:
"Players are husbands, fathers, sons and boyfriends. And as such want to set an example that makes clear that there is no place for domestic abuse in our society. We are hopeful that this new comprehensive, collectively-bargained policy will deter future violence, promote victim safety, and serve as a step toward a better understanding of the causes and consequences of domestic violence, sexual assault, and child abuse."
In case of a suspension, it would be unpaid, and the player could not accrue major league service time toward a pension while he sits. Any punishments could be appealed, and MLB already employs an independent arbitrator for disputes.
If you want to read the policy in its entirety, have at it:
A. Treatment and Intervention

The parties have established a Joint Policy Board, comprised of three experts in the field of domestic violence, sexual assault and/or child abuse, and two representatives each from the Players Association and the Commissioner's Office. The Joint Policy Board is responsible for evaluating, and where appropriate, supervising the treatment of a player.

An expert member of the Joint Policy Board will submit his or her proposed Treatment Plan to the full Board for approval. The expert who prescribed the Treatment Plan will be responsible for overseeing the player's compliance with the Plan.

A player's Treatment Plan may require him to submit to psychological evaluations, attend counseling sessions, comply with court orders (including child support orders), relocate from a home shared with his partner, limit his interactions with his partner, relinquish all weapons, and other reasonable directives designed to promote the safety of the player's partner, children, or victims.

The Joint Policy Board will refer persons affected by domestic violence to appropriate intervention services.

A player who fails to comply with a Treatment Plan may be subject to discipline by the Commissioner.

All information relating to a player's involvement with the Joint Policy Board shall be kept confidential.


B. Investigations

The Commissioner's Office will investigate all allegations of domestic violence, sexual assault, and child abuse in the Baseball community. Consistent with the parties' collective bargaining agreement, the player and the Players Association shall cooperate in the investigation, including making the player available for an interview.

The Commissioner may place a player accused of domestic violence, sexual assault or child abuse on paid Administrative Leave for up to seven days while the allegations are investigated before making a disciplinary decision. The agreement contains procedures for a player to immediately challenge that placement before the Arbitration Panel (below).


C. Discipline

The Commissioner shall have authority to discipline a player who commits an act of domestic violence, sexual assault or child abuse for just cause. There is no minimum or maximum penalty prescribed under the policy, but rather the Commissioner can issue the discipline he believes is appropriate in light of the severity of the conduct. The Commissioner's authority to discipline is not dependent on whether the player is convicted or pleads guilty to a crime.

A player may challenge his discipline before the parties' Arbitration Panel, which consists of a representative of each party and the parties' agreed-upon Impartial Arbitrator. A challenge to discipline will be governed by the "just cause" standard. The Panel may consider evidence of both aggravating and mitigating factors concerning the Player's alleged actions when relevant and appropriate.

The Commissioner may elect to discipline a player immediately after the conclusion of the player's Administrative Leave, reinstate the Player and defer his disciplinary decision to until after resolution of any criminal charges, or under certain circumstances may suspend the player with pay until legal proceedings are completed (at which point the paid suspension may be converted to an unpaid suspension).

All disciplinary suspensions under the policy that are upheld are without pay and suspended players will not accrue Major League service.

A Club may not discipline a player for a violation of the Policy unless the Commissioner defers his disciplinary authority to the Club. Any such Club discipline may also be challenged through the arbitration process.

Under the new policy, the parties have agreed that prior precedent and past practice of disciplining players for engaging in an act of domestic violence, sexual assault or child abuse may not be relied upon by a player to support a challenge to the severity of his discipline, but that all other disciplinary past practice and precedent will remain relevant.

D. Training, Education and Resources

All players will be provided education in English and Spanish about domestic violence, sexual assault and child abuse at regular intervals. (All Major League players participated in education sessions during Spring Training of 2015, and Minor League players at all levels have received training organized by their respective Clubs throughout the season).

A confidential 24-hour helpline (in English and Spanish) staffed by a team of experts in domestic violence has been established for players and their families, and we have identified highly-qualified resources in every Major League market who can provide on-the-ground support and resources to those affected by domestic violence.

The parties shall regularly provide resources to players' families, including referral information, websites, hotline numbers and outreach facilities.

The parties will develop an annual program of community outreach which may include public service announcements featuring players, domestic violence awareness days at ballparks and other activities designed to spread awareness on the issues. Many Clubs already partner with anti-domestic violence organizations in this area, and many Players and their families already actively support domestic anti-domestic violence organizations in their communities.
CBS Sports HQ Daily Newsletter
Get the best highlights and stories - yeah, just the good stuff handpicked by our team to start your day.
Please check the opt-in box to acknowledge that you would like to subscribe.
Thanks for signing up!
Keep an eye on your inbox for the latest sports news.
Sorry!
There was an error processing your subscription.
EA Sports executive vice president Cam Weber says he wants to make baseball video games ag...

The WWE star joined some of her SummerSlam friends for a day at the ballpark

Here is everything you need to know about Wednesday's MLB action
Chapman voiced his request following Monday's win over the Mariners

SportsLine's Mike McClure, a DFS pro with nearly $2M in winnings, gives optimal lineup adv...

Mike McClure has a three-way parlay that could pay off huge on Wednesday