MLB execs: Zack Greinke is headed for a record payday for right-handed pitchers
The top free-agent starting pitcher on the market benefits greatly from the interest of the two L.A. teams.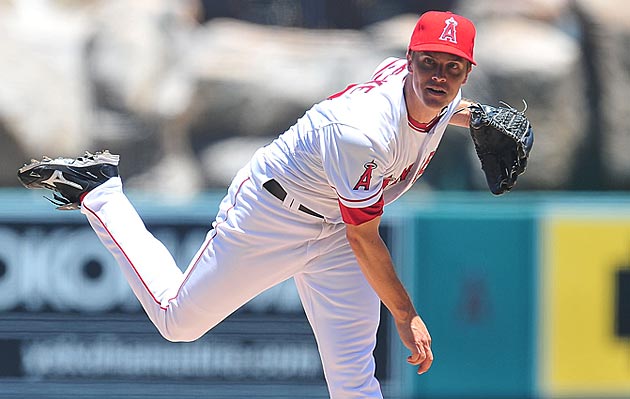 Apparently, Zack Greinke can be the highest-paid right-handed pitcher in the game -- if he wants to be. (US Presswire)

Baseball executives see star free-agent right-hander Zack Greinke landing a deal for at least six years and perhaps as much as $25 million a year, which could bring Greinke's total haul to $150 million.
The presence of both Los Angeles teams in the bidding is likely to benefit Greinke, who should easily set a record for pay for a right-handed pitcher.
Giants star Matt Cain set the record for salary for right-handers when he signed in spring training for $112.5 million over five years, an extension that took him to $127.5 million over six years. Phillies left-hander Cole Hamels has the per-season record salary on a multiyear deal at $24 million, while fellow lefty CC Sabathia of the Yankees has the record contract for a pitcher, at $161 million over seven years.
While Greinke isn't quite as accomplished as Cole Hamels, who signed during last season for $144 million over six years, a case could be made that Hamels might have gotten even a bit more than that had he chosen to test the free-agent market rather than re-sign with his old team.
The Dodgers also are said to like Anibal Sanchez, but he has been asking teams for at least $90 million over six seasons, so he's not inexpensive either. They might also look at Kyle Lohse, as well. However, Dodgers people have begun asking around about Greinke, Danny Knobler reported, and their presence in talks only benefits Greinke, who went 15-5 with a 3.48 ERA for the Brewers and Angels.
Angels people have seen the Dodgers as their biggest threat.
The Angels want to re-sign Greinke, and they set themselves up for that possibility by trading Ervin Santana and letting Dan Haren go. The Angels suggested last winter that they wouldn't pay a starting pitcher more than ace Jered Weaver's $85 million, five-year deal, but such a stance would be a major impediment to any Greinke deal, and an Angels person suggested that they will consider that strategy on a "case-by-case" basis.
The Rangers, a main Angels rival, loom as another threat in the Greinke market, and so might the Nationals, who have long coveted Greinke (they offered him $100 million two years ago as part of a possible trade deal, before he chose the Brewers). Asked at the GM meetings about Greinke, Nationals GM Mike Rizzo said, "What's not to like?"
About the only big-market team looking to sign a pitcher to a multiyear deal that appears to be shying away from Greinke is the Red Sox.
Greinke's other two previous teams, the Royals and Brewers, would love to have him back. But in a bidding situation with at least the two L.A. teams, their chances seem quite remote. They certainly aren't about to pay anyone $150 million.
The Red Sox and Cardinals are expected to make trade offers next

The free agent first baseman may be a fit in St. Louis

The front office changes in Atlanta continue
The Marlins are more likely than you think on our list

Judge finished a distant second in the balloting and he paid respect to the winner

Stanton just won the 2017 NL MVP award but could wind up being dealt this offseason