MLB fines John Farrell for negative remarks about replay
After saying it's hard to have faith in the new replay system, Red Sox manager John Farrell has been fined by Major League Baseball.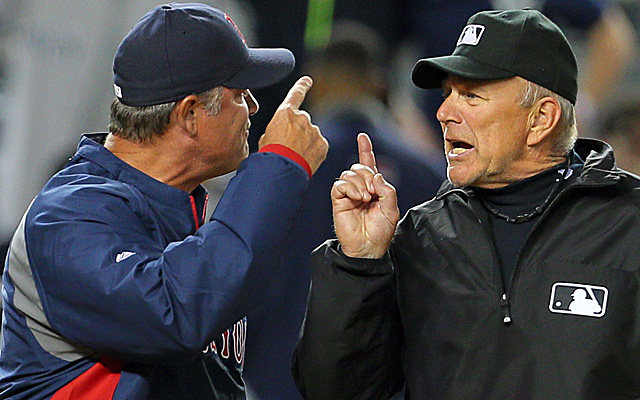 More MLB: Power Rankings | Expert Picks | Latest news & notes | Fantasy news
Red Sox manager John Farrell has been fined an undisclosed amount of money by Major League Baseball for saying "it's hard to have any faith in the system," regarding the new instant replay system being used this season.
This past weekend, the Red Sox had a few calls go against them that involved the new instant replay system. In fact, one call -- it happened on Saturday -- was definitely a missed call and even Major League Baseball itself admitted as much. Sunday, another call went against the Red Sox and Farrell believed this was incorrect as well, prompting his post-game comments.
MLB executive vice president Joe Torre made it sound like he is being lenient on Farrell, too. Via nydailynews.com:
"I'm not going to suspend him. It will be a fine," Torre said of Farrell. "I'm sorry about what he said. What I try to do in whatever I do in this job that the commissioner has imported me to do, is basically never forget what it's like to be a player or a manager.

"Part of that never forgetting are the feelings, especially when you're dealing with Red Sox-Yankees games. There is nothing that is insignificant about anything that happens in those games," added Torre.
I guess the league needs to set a precedent here, but it's hard to find much fault in what Farrell said. He was one day removed from the system failing his team and said it's hard to have faith in it. In his shoes, I'd say it would be difficult to trust in the system at that point, so what he said was simple logic.
Regardless, Farrell is fined and that's that. He'll survive.
As far as the replay system goes as a whole, there are definitely some things to iron out -- especially the catch/transfer stuff -- but it's still been just over two weeks. I'm still holding out hope that eventually it'll work out to where it's good for the game.
A-Rod held a similar role last season

Bautista makes his home in Tampa

The Angels' Ohtani faced Milwaukee in Cactus League action on Saturday
New Mexico broke the school and WAC single-game run record with a 39-0 victory over Mississippi...

It's the first Saturday slate of spring training games, and Ohtani will be taking the mound...

The Tigers are very early in their rebuild and they're counting on Miguel Cabrera to rebound...