MLB gives A-Rod chance to take ban through 2014; he seeks better
While nine other players appear ready to accept 50-game suspensions, Alex Rodriguez is locked in negotiations with MLB over the length of his penalty.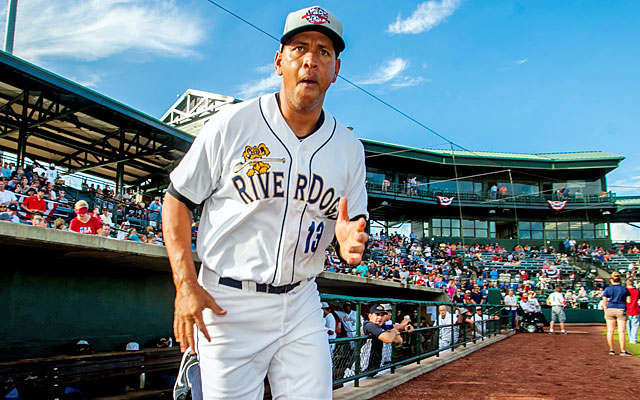 Alex Rodriguez has the opportunity to accept a ban that will keep him off the field through the end of 2014 and return the following season but still may be seeking a somewhat better deal, people familiar with the investigation said.
Rodriguez has signaled a willingness to cut some kind of deal with Major League Baseball, but it isn't known how far below the 217 or so games that remain through 2014, if any, MLB might agree to. The stiffest penalty in MLB history has been for 100 games, but with evidence compelling and in some ways galling, MLB may see even a 150-game ban as light, though that seems to be another compromise possibility.
If A-Rod agrees to a ban of about 217 games (through the end of '14), he would lose about $34 million of the $95 million remaining on his record $275 million Yankees deal. If he can somehow negotiate the penalty down to 150 games, he would lose $25 million.
Commissioner Bud Selig still would have to sign off on a ban through 2014, but it is expected he would be willing to do so.
While a lifetime ban has been suggested as a possibility, most baseball people would be surprised if Selig ultimately tried for such a "death penalty" for a player who has yet to receive one PED-related punishment. If Rodriguez doesn't agree to a deal, one possibility could be for MLB to issue a suspension through 2014 combined with the "best interests" clause in the CBA that would halt his ballplaying comeback immediately.
Baseball lawyers suggest a ban through 2014 might be sustained based on the evidence they've heard about, but they're uncertain about the viability of a lifetime ban. Selig is seen as a winner with Ryan Braun agreeing to a 65-game ban and about nine other Biogenesis-linked ballplayers about to sign off on 50-game suspensions, and it still seems hard to see him risking an appeals defeat with a lifetime ban try on a player who has never failed a non-survey MLB drug test.
There have been reports of hiccups in negotiations, but that could be part of the posturing process. Rodriguez has been trying to get back to play for the Yankees in what is seen as a leverage play in his negotiation with MLB.
A-Rod is scheduled to play rehabilitation games Friday and Saturday for Trenton, the Yankees' Double-A affiliate, in what now looks like nothing more than a negotiation sideshow. It is hard to see A-Rod being flown across country to play in their game at San Diego on Sunday, which happens to be the deadline for the other nine or so players to make their 50-game deals with MLB.
Almost all of the other players are expected to accept 50 games by Sunday, the date by which MLB wants this settled so they can contain their penalty in this regular season and also be ready for the playoffs, if needed. An announcement of penalties is expected by Sunday (it could be as early as Friday or Saturday) for the other nine Biogenesis-linked players to be suspended.
A-Rod could have a bit more time with his decision since his is a historic case with many more complications, and whether or not there are 50 games to go is irrelevant since his penalty will be considerably longer. However, MLB would surely prefer to wrap all of it into one announcement.
A-Rod's camp is said by a players-connected source to have argued that he doesn't deserve to be separated from the others, and that unlike Braun, who agreed to a 65-game ban, he hasn't failed a non-survey test (he failed the 2003 MLB survey test). But word is that MLB has evidence Rodriguez bought or used steroids every year since 2009, the very year he asked baseball fans to "judge him from this day forward," upon his admission and explanation of the failed '03 test.
MLB instituted the strongest drug program in professional sports in the period since A-Rod's admission, and it is hard for him to argue he hasn't been warned. Baseball people are additionally concerned that he may have gone to the extreme of attempting to impede the MLB investigation by buying Biogenesis documents.
Many baseball people are galled by the evidence suggesting widespread steroid use at the same time he was volunteering to aid the Hooton Foundation and speaking to young boys about the evils of steroid use. The Hooton Foundation was formed when Texas teenager Taylor Hooton committed suicide after steroid use.
While Rodriguez seems to be using the possibility of playing as a point for him, the pressure remains high for A-Rod to agree to a penalty, as Selig has at his disposal the right to invoke a "best interests" clause from the CBA to pull him off the field even if he doesn't agree. While the union may not love that course, other players are not feeling compelled to fight hard for A-Rod, who is not popular in the game except perhaps among his small circle of Miami ballplayers.
The feds' new interest in former Biogenesis proprietor Tony Bosch, MLB's star witness, also could put extra heat on A-Rod since he could be compelled to testify under oath in a federal case against the drug-dealing Bosch, as the New York Daily News pointed out Friday.
The nine or so Biogenesis-linked players who may take deals in the next day or two: Mariners catcher Jesus Montero; Tigers shortstop Jhonny Peralta; Rangers outfielder Nelson Cruz; Yankees catcher Francisco Cervelli; Padres shortstop Everth Cabrera; minor leaguers Jordan Norberto, Fernando Martinez, Fautino de los Santos and Cesar Puello.
Rangers teammates are said to have suggested to Cruz that he consider appealing so he can continue to help in the pennant race, but with MLB and his free agency calling that would be a difficult decision to make, barring a contract extension offer from Texas.
Blue Jays outfielder Melky Cabrera, Padres catcher Yasmani Grandal and A's pitcher Bartolo Colon will not be re-suspended as they served 50-game bans last year after failing tests. Nationals pitcher Gio Gonzalez is not involved in this case after early suggestions he might be.
Minnesota has designs on the best starting pitcher available on the free agent market

The Cardinals have long coveted the Miami outfielder

The superstar slugger is eligible for free agency after next season
The veteran second baseman remains a useful regular

The Indians may be seeking a left-handed hitter in return

NBC Sports California has cut ties with the former A's slugger after a string of inappropriate...