MLB has a Royal problem with AL All-Star Game voting
If voting ended Monday, Omar Infante would be the starting second baseman and the eighth Royal in the All-Star Game.
The All-Star voting system has worked for years, with fans generally taking the process seriously and selecting either very good or at least reasonably acceptable starting lineups year after year, without incident.
But this year, MLB might finally have a problem.
The American League lineup, as it currently stands, will be cheered in Overland Park, Kan., Lee's Summit, Mo., and at Oklahoma Joe's and at very few other places anyone one could name outside the Missouri-Kansas state line.
The AL lineup, as it stands, is almost entirely colored Royals blue.
While it's a great thing that baseball is apparently so alive and well in Kansas City (both of them), it's a shame that the American League team has a very good chance to look almost exactly like Ned Yost's starting lineup.
The Royals have a very fine team built around defense and their bullpen, and they have several excellent everyday players, too. But this isn't right. Nor is it fair.
And for the record, no, Omar Infante isn't better than Jose Altuve at second base. Nor is he better than Jason Kipnis. Or Dustin Pedroia.
Or, in reality anyone else currently starting as a second baseman in the American League.
Yet, as things stand now, he is your American League All-Star second baseman.
In fact, Infante, of the .496 OPS, is one of eight Royals currently in position to start for the AL team. That's the entire starting lineup of positional players save for Alex Rios, who has missed most of the first half with an injury and has done virtually nothing to this point.
Rios, though, currently stands fourth among outfielders. If he can somehow get enough votes to beat Angels superstar Mike Trout for third place among outfielders, the entire lineup except for the pitcher will be Royals.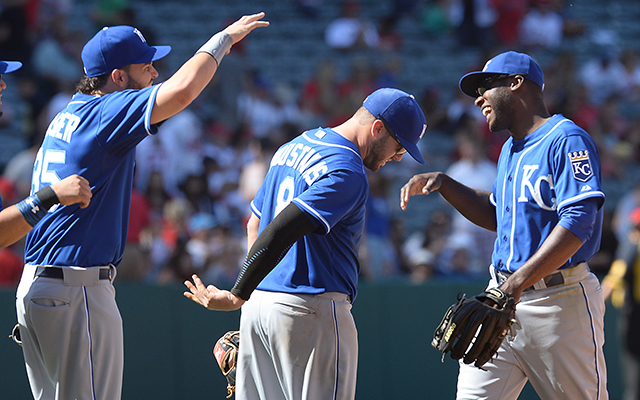 I would say that would seem highly unlikely. But nothing would seem more unlikely than Infante leading all second basemen. Infante has a minus-0.1 WAR to go with zero home runs and zero stolen bases to this point. He is the only qualifying major leaguer yet to hit a home run or steal a bag this year.
I don't say this unkindly, but by any statistical measure, Infante has been about a zero this year.
Yet, Infante somehow has amassed 4.5 million votes and leads Altuve, Kipnis, Pedroia and several other second basemen having fine seasons.
Statistically speaking, there's a strong case Infante has been the worst starting second baseman in the American League, not the best.
He's bad enough that many Royals fans want him out of the Royals lineup. Yet, somehow, they or someone wants him in Cincinnati representing the AL.
This is obviously not what baseball had in mind when it empowered fans to select the starting lineups. And this is not good for the game, quite obviously.
It's not the end of the world, of course. And congrats to the Royals for the unbridled enthusiasm of their fans, assuming some computer savant didn't find a way to hack the system.
But all of their enthusiasm may deprive several deserving players from their rightful place in the starting lineup -- Josh Donaldson, Nelson Cruz, Jose Iglesias, plus Prince Fielder or Miguel Cabrera, and of course Kipnis or Altuve, and others -- and ultimately will cost others a chance to make the team.
MLB has looked into the situation and found nothing untoward. The hope is that Royals fans are just outworking everyone else, and that may be the case. The belief for now is that a bunch of dummy emails or certainly something else more complex that isn't behind this.
The next question becomes: Can anything be done about it?
Well, there seems to be no movement for commissioner Rob Manfred to rewrite the lineup, as then-commissioner Ford Frick did in 1957, when overenthusiastic Reds fans stuffed All-Star ballot boxes (in those days, they did it the hard way, actually stuffing real boxes with paper ballots).
The best remedy at the moment may be to encourage Astros fans to get out and vote for Altuve, who still have a chance to beat out Infante, Mariners fans to get out and vote for DH Nelson Cruz and Tigers fans to get out and vote for Cabrera, so Trout isn't the only non-Royal in the starting lineup. The other positions look fairly hopeless for non-Royals at this point.
If the Royals wind up with eight All-Star starters, while this isn't exactly a disaster (at least it's not a last-place team), it isn't necessarily good for baseball, either.
And while we can laugh this off as a quirk in the system, something will need to be done about it so that in 2016 in San Diego, we don't see a team full of Phillies.
CBS Sports HQ Daily Newsletter
Get the best highlights and stories - yeah, just the good stuff handpicked by our team to start your day.
Please check the opt-in box to acknowledge that you would like to subscribe.
Thanks for signing up!
Keep an eye on your inbox for the latest sports news.
Sorry!
There was an error processing your subscription.
Keep it right here for all of Friday's MLB action

Keep up with all the latest trade rumors around Major League Baseball

Choo, who could tie Kevin Millar's 2007 streak on Friday night, is past the halfway point to...
SportsLine's Mike McClure, a DFS pro with nearly $2M in winnings, gives optimal lineup adv...

The Dodgers are welcoming Manny Machado to the team

A weekend-long Subway Series kicks off with Noah Syndergaard on the mound