MLB has 'no plans to issue a suspension' to Pineda for pine tar
MLB executive Joe Torre said there are no plans to suspend Michael Pineda following Thursday's pine tar incident. They will talk to the Yankees, however.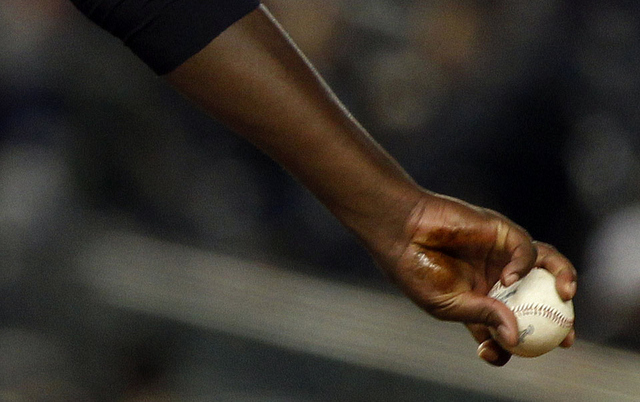 More MLB: Scoreboard | Standings | Probable Pitchers | Sortable Stats | Odds
During Thursday night's win over the Red Sox, Yankees right-hander Michael Pineda sure had what looked like a foreign substance on his right palm during his start. Given the color, everyone assumed it was pine tar. The Red Sox and the umpires never raised an issue about the alleged foreign substance.
On Friday, Major League Baseball executive vice president Joe Torre told Joel Sherman of the New York Post that the league has no plans to suspend Pineda:
"The umpires did not observe an application of a foreign substance during the game and the issue was not raised by the Red Sox. Given those circumstances, there are no plans to issue a suspension, but we intend to talk to the Yankees regarding what occurred."
Pineda, 25, allowed one run in six innings, striking out seven. Replays during the various television broadcasts showed the substance on Pineda's hand in the first through fourth innings, but not in the fifth or sixth.
The Red Sox likely did not point out the substance for two reasons. One, both Clay Buchholz (sunscreen) and Jon Lester (green goo) allegedly used a foreign substance last season. Two, it is one of baseball's open secrets that most pitchers use some kind of substance to improve their grip, so the unwritten rule is to not call anyone out unless you want your pitchers called out as well.
Pineda, who claimed the substance was dirt, probably used pine tar or something else against the rules to get a better grip on Thursday night, like many pitchers. The problem was that it was way too obvious.