MLB injuries, news and rumors roundup for March 25
Here's our roundup for all things MLB, hitting on signings, trades, rumors, injury and even some positional battles.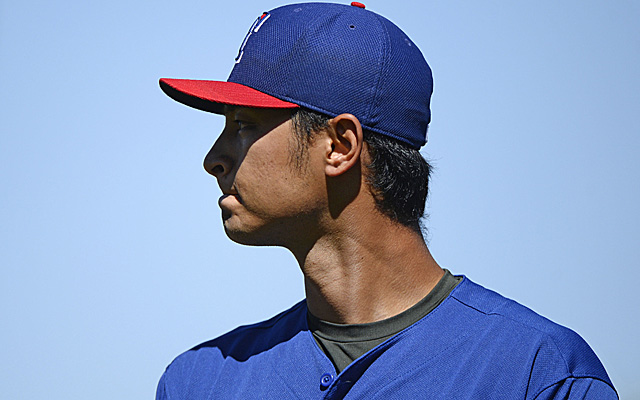 MORE: Spring Training | Scoreboard | Team previews
We're less than one week away from every team in the majors having at least one game under its belt. That's how close we are, you guys. It's an awesome time of the year -- well, unless you are rooting for a team ravaged by injuries already.
Anyway, here's tonight's roundup.
JON HEYMAN
Pirates: The club is going with the Gaby Sanchez/Travis Ishikawa duo at first base, but still considering outside help via a minor trade.
Yankees: Is Derek Jeter out of miracles? Some scouts believe the answer is yes.
TRADE
Pirates: Starting pitcher Vance Worley has been acquired from the Twins.
SIGNINGS
Padres: They've agreed to bring in outfielder Jeff Francoeur on a minor-league deal, according to Corey Brock of MLB.com.
Rangers: Catcher Chris Snyder was signed to a minor-league deal, according to Evan Grant of the Dallas Morning News.
INJURY UPDATES
Braves: Reliever Cory Gearrin left the game Tuesday with a sore elbow and will see a specialist Wednesday (ajc.com). 
Brewers: Shortstop Jean Segura is dealing with a shoulder issue and Tuesday was held out of his sixth straight game (jsonline.com).
Dodgers: Yasiel Puig had an MRI on his back, which showed only inflammation (Bill Plunkett). Also via Plunkett, manager Don Mattingly said it's possible that Matt Kemp will be ready to play when he's eligible to come off the DL April 4.
Giants: Marco Scutaro continues to have problems in his back and had a diagnostic nerve block procedure Tuesday, per csnbayarea.com.
Mariners: Corey Hart may begin the season on the DL due to his forearm tightness (seattletimes.com).
Padres: Catcher Yasmani Grandal -- recovering from surgery to repair a torn ACL in his knee -- caught a full nine innings Tuesday and could make the opening day roster (Brock).
Rangers: Yu Darvish won't be the opening day starter and is instead seeing a specialist about his neck problem.
Reds: Johnny Cueto pitched for the first time in a few weeks in a spring game Tuesday and said his shoulder feels good to go for the regular season (cincinnati.com).
MISCELLANY
MLB: The league and MLBPA are moving closer to more strict PED penalties.
Brewers: Second baseman Rickie Weeks was being scouted by the Rangers Tuesday, according to Tom Haudricourt of the Milwaukee Journal-Sentinel. Remember, the Rangers lost Jurickson Profar for several months due to injury, though Weeks makes a lot more money.
Cubs: Starting shortstop Starlin Castro says that he'd move positions in order to make room for prospect Javier Baez if asked to do so. Also, it is believed Castro will be fine to start opening day for the Cubs. His hamstring has hampered him this spring.
Indians: Carlos Santana has won the starting third baseman job. Also, all indications are that the final spot in the rotation is going to go to either Josh Tomlin or Carlos Carrasco.
Mariners: Randy Wolf won a starting job, but instead opted out of his deal after being asked to sign a 45-day release consent form. Also, the club is looking for a right-handed bat and might only trade Nick Franklin -- long-rumored a trade candidate after Robinson Cano was signed -- if they get one (Ken Rosenthal). 
Phillies: They're looking for candidates to serve as a backup shortstop with Freddy Galvis on the shelf (csnphilly.com). Jamey Carroll was released by the Nationals Tuesday, so he could be a temporary fit -- which is all they need.
Rangers: Neftali Feliz was sent to Triple-A.
There will be a Game 5 after all on Thursday night

Tanaka shut the Astros down in ALCS Game 5 and has overcome a down season and past injurie...

The 2017 World Series begins Oct. 24
The Yankees wouldn't chase Keuchel's bread-and-butter, those tempting pitches just at the knees...

The Yankees are now just one win away from the World Series, despite trailing this series 2-0...

It's Alex Wood against Jake Arrieta at Wrigley Field