MLB injury, news and rumor roundup for March 26
Our nightly roundup of the day that was in Major League Baseball, in regards to injuries, rumors and news.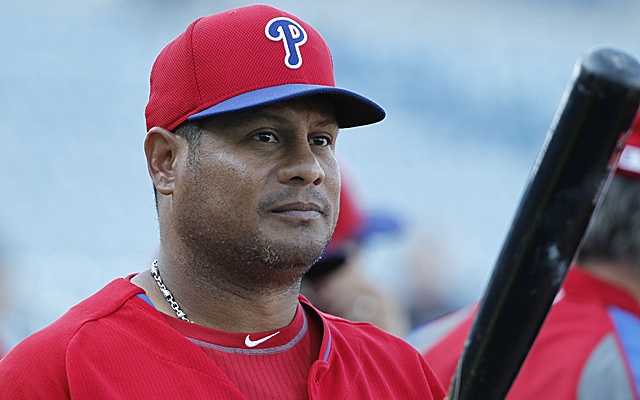 MORE: Spring Training | Scoreboard | Team previews
Let's round 'em up! With only a few days left until the (real) regular season, time is a-wastin'.
SIGNING/AGREEMENT
Pirates: They locked up young Starling Marte to a six-year, $31 million extension which also includes two club options.
INJURY UPDATES
Astros: All-Star reliever Jesse Crain will throw his first bullpen session Thursday since having offseason surgery. (Brian McTaggart)
Blue Jays: Jose Reyes is still day to day with a tight hamstring. He may start at DH Friday. (Gregor Chisholm)
Brewers: Jean Segura shoulder soreness isn't getting much better and a DL stint to begin the season is possible. (MLB.com)
Diamondbacks: Bronson Arroyo feels recovered from his back ailment and should be ready to open the season in the rotation. (azcentral.com)
Dodgers: Clayton Kershaw will miss his scheduled start Sunday night due to a back issue.
Giants: Left-handed reliever Jeremy Affeldt will open the season on the DL.
Orioles: Nolan Reimold will begin the season on the disabled list. (MASN Sports)
Pirates: Opening day starter Francisco Liriano has a groin issue, but he's still on track to make said start (Pittsburgh Tribune Review)
Rangers: Yu Darvish has no structural damage in his neck, but is still likely to open the season on the disabled list.
Royals: Catcher Salvador Perez was hit in the helmet with a pitch (while batting), but it was deemed a "non-concussive" blow. He's fine. (Andy McCullough)
White Sox: Gordon Beckham will begin the season on the disabled list, meaning Marcus Semien is the opening day starter. (Daryl Van Schouwen)
Yankees: Backup shortstop Brendan Ryan will begin the season on the disabled list. (Dan Barbarisi)
MISCELLANY
Angels: They finally just cut Joe Blanton.
Cubs: They released backup catcher George Kottaras (ESPN Chicago).
Mariners: A day after asking Randy Wolf to sign a 45-day release clause, the Mariners are looking for more starting pitching. (thenewstribune.com)
Mets: Jose Valverde will be the Mets' primary setup man and could even see save opportunities -- especially early in the season as Bobby Parnell works his way back from herniated disc surgery. (ESPN New York)
Nationals: They've signed veteran infielder Kevin Frandsen. (Ken Rosenthal)
Phillies: Bobby Abreu has failed to make the opening day roster, the club announced.
Rangers: Tanner Scheppers will be their opening day starting pitcher and it'll be his first career start. Also, Tommy Hanson was cut. Starter Scott Baker -- who was recently released by the Mariners -- is close to a minor-league deal. They also claimed utility infielder Donnie Murphy off waivers from the Cubs.
Rays: Veterans Wilson Betemit, Jayson Nix and Mark Lowe have failed to make the opening-day roster. (tampabay.com)
Red Sox: Jon Lester is still confident he'll have a contract extension signed soon.