MLB injury, news and rumors roundup for April 28
There were some roster moves Monday, along with a trade and lots of injury updates. Here's our nightly roundup.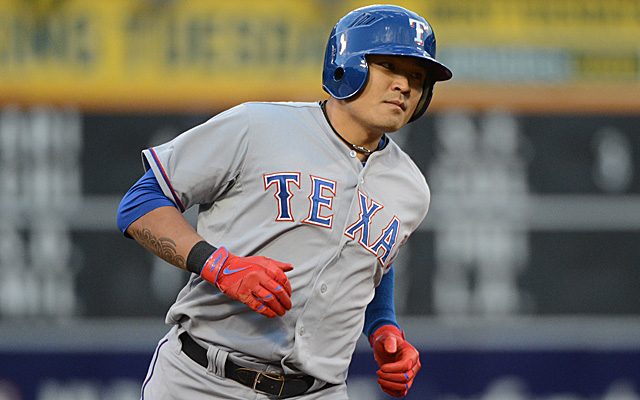 More MLB: Power Rankings | Expert Picks | Latest news & notes | Fantasy news
Though there were only six games Monday, there was actually a decent amount of roundup-type news. Let's get to it.
Remember, click on the links provided for the full story on each item. This is just a quick-hitter roundup -- a veritable Cliffs Notes of baseball news.
ROSTER MOVES
Astros-Diamondbacks: Pitcher Lucas Harrell was traded from Houston to Arizona for either a player to be named later or cash.
Blue Jays: Second baseman Ryan Goins has been optioned to Triple-A, they announced. No corresponding move has yet been made.
Cardinals: In a pair of roster moves, they notably demoted Kolten Wong to Triple-A.
Indians: Carlos Carrasco has been moved out of the rotation and to the bullpen. Zach McAllister will start Wednesday on short rest and later the Indians will add another pitcher to the rotation (Paul Hoynes on Twitter). Trevor Bauer, perhaps?
Padres: Jedd Gyorko will miss the entire series against the Giants due to paternity leave, as he's now the father to twin boys (utsandiego.com).
INJURY UPDATES
Athletics: Yoenis Cespedes (hamstring) expects to be back in the starting lineup Tuesday (MLB.com).
Brewers: An MRI revealed that Ryan Braun has an oblique injury and not an intercostal injury, as was previously reported by the team.
Cubs: Starting pitcher Jake Arrieta (shoulder) is expected to join the rotation this coming weekend (MLB.com).
Dodgers: Clayton Kershaw (back) will make his second rehab start Wednesday with Double-A Chattanooga and that might be his last in the minors (latimes.com). Also, A.J. Ellis is ahead of schedule in his recovery from knee surgery. He still needs to start running without pain before considering a rehab assignment, though (latimes.com).
Giants: Top hitting prospect Mac Williamson needs Tommy John surgery (sfgate.com).
Nationals: Bryce Harper needs surgery to repair a ligament in his thumb and will be out until July.
Padres: Carlos Quentin (knee) could begin a minor-league rehab assignment by the end of the week (MLB.com).
Rangers: After a pinch-hit appearance Monday, Shin-Soo Choo is expected to return to the starting lineup from his sprained ankle Tuesday (dallasnews.com). Also, starting pitcher Derek Holland continues to build leg strength in his return from offseason knee surgery. His return is still looking like late June or early July (MLB.com).
Rays: David DeJesus continues to be relegated to DH duties while he recovers in the lineup from a shoulder injury (MLB.com).
Reds: Mat Latos (elbow) is hoping for a mid-to-late May return, saying that would be "fantastic." He'll throw off the mound later this week before more of his return schedule is known (Cincinnati.com).
Rockies: They're hopeful that Wilin Rosario can avoid a stint on the disabled list as they await results on an MRI on his injured left hand (MLB.com).
Twins: Byron Buxton (wrist), baseball's top prospect, has returned to action, but it's in extended spring training as he starts from scratch for the year (startribune.com).
White Sox: Chris Sale (arm) played catch for the second straight day and is eligible to come off the DL this weekend, but sounds unlikely as things currently stand (MLB.com).
MISCELLANY
Pirates: GM Neal Huntington said it's not a Super Two salary thing but instead some things that top prospect Gregory Polanco needs to work on before he's promoted to the majors. (triblive.com).
Red Sox: They haven't had talks with Stephen Drew at any point at all during the regular season, reports WEEI.com.
Yankees: Might catcher John Ryan Murphy be a trade chip for the Yankees? (nydailynews.com)
The Dodgers have already clinched the NL West title, so the D-Backs will be a wild card te...

Check out all of Sunday's action, including a single-season record getting closer to falli...

Judge's 48 homers trail only McGwire's 49 in single-season rookie history
The Reds still have one of the best hitters in the game in Joey Votto and a rising star in...

Maxwell joins a growing movement across sports

The Yankees punched their ticket to the playoffs with a win over the Blue Jays on Saturday