MLB injury, news and rumors roundup for Aug. 14
An eventual new commissioner was crowned Thursday, but there was so much more. Here's our nightly roundup.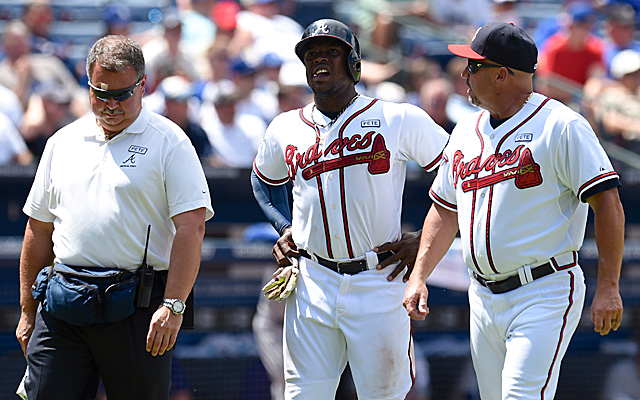 More MLB: Power Rankings | Expert Picks | Latest news & notes | Fantasy news
Yes, our next MLB commissioner was named, but there was a lot more. Let's check it out (and remember to click through the provided links for the full story).
Next Commissioner
Roster Moves
A's: Jed Lowrie was placed on the DL with a fractured finger.
Braves: Lefty Luis Avilan was recalled from Triple-A Gwinnett.
Cubs: Dan Straily is going to be recalled from the minors to start Saturday, causing many to say Edwin Jackson's job is in jeopardy (suntimes.com).
Mets: The club re-signed veteran Bobby Abreu to a minor-league deal and assigned him to Triple-A Las Vegas.
Pirates/Indians: The Pirates acquired John Axford from the Indians.
Injury Updates
Braves: Justin Upton left Thursday's game early due to a hamstring issue (ajc.com).
Brewers: Ryan Braun wasn't in the lineup Thursday due to ongoing issues with his thumb (brewers.com). Kyle Lohse's next start is up in the air due to an ankle injury (brewers.com).
Cardinals: Yadier Molina caught a bullpen session, but still hasn't picked up a bat (stltoday.com). Jason Motte is unlikely to be activated before September (cardinals.com).
Dodgers: Hanley Ramirez is throwing, but not swinging a bat yet (dodgers.com).
Mets: Matt Harvey needs to settle down as he hurries to return from Tommy John surgery, manager Terry Collins told him.
Nationals: Jayson Werth has a shot to return during the weekend series (nationals.com).
Orioles: Dylan Bundy has been placed on the minor-league DL with a lat strain and his season may be over -- which isn't as bad as it sounds, considering the minor-league season ends in less than three weeks (baltimoresun.com).
Padres: Andrew Cashner threw 63 pitches in a Triple-A rehab start (padres.com).
Pirates: Jordy Mercer left Thursday's game due to right forearm tightness (pirates.com).
Rays: Wil Myers is close to coming back from his broken wrist (raysbaseball.com).
Reds: Brandon Phillips will begin his rehab stint Friday, but Homer Bailey is headed to the DL.
Rockies: Carlos Gonzalez needs knee surgery and it may be season-ending. Michael Cuddyer could return to the lineup Saturday (rockies.com).
Miscellany
Cubs: GM Jed Hoyer says the focus moving forward is frontline pitching (Mark Gonzales via Twitter).
Royals: Billy Butler really wants to stick around, even if the Royals don't pick up his 2015 club option, which is $12.5 million. (Fox Sports Kansas City)
Wrigley Field: As expected, the rooftops are suing the city of Chicago in order to try and block some aspects of the renovation process (chicagobusiness.com).