MLB injury, news and rumors roundup for Aug. 15
Let's get to our nightly roundup of all things MLB. Included are Avisail Garcia, Robinson Cano, Gerrit Cole, Yu Darvish, Rusney Castillo and much more.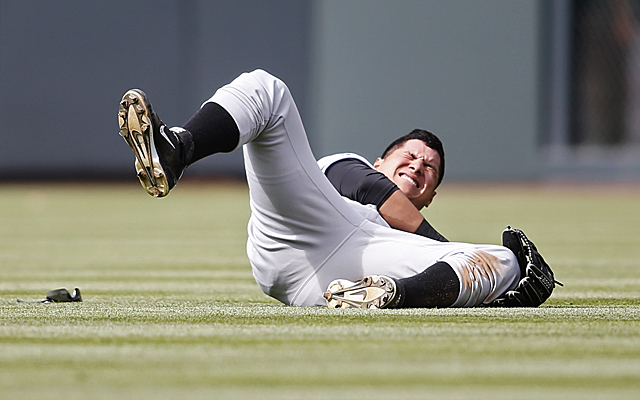 More MLB: Power Rankings | Expert Picks | Latest news & notes | Fantasy news
We're inching closer to the end of the 2014 regular season and the pennant race is getting more and more exciting, seemingly by the minute. Let's get to our nightly roundup. As a reminder, this is just a quick hitter. For the full story, when applicable, click on the provided link.
ROSTER MOVES
Astros: Reliever Kevin Chapman was recalled while outfielder L.J. Hoes was sent down the minors.
Blue Jays: As expected, Edwin Encarnacion was activated from the DL, with Anthony Gose being optioned.
Cubs: With Dan Straily coming up to pitch Saturday, Junior Lake was optioned to Triple-A.
Cubs/Diamondbacks: Former top prospect Brett Jackson was traded from the Cubs to Arizona, per the teams.
Dodgers: Hyun-Jin Ryu is headed to the disabled list.
Indians: Michael Bourn was activated from the DL.
Mets: Chris Young (the outfielder) was released.
Pirates: Stolmy Pimentel was placed on the DL, making room for John Axford to be activated.
Rangers/Dodgers: The Rangers have shipped minor-leaguer Justin Germano to the Dodgers, the clubs announced.
Twins: Ricky Nolasco was activated from the DL to make his start Friday.
INJURY UPDATES
Braves: Justin Upton was in the lineup after leaving Thursday's game early.
Brewers: Tyler Thornburg and Jim Henderson are both out for the season (Adam McCalvy). Also, Jean Segura left Friday's game with a hand contusion, the club announced.
Dodgers: Juan Uribe left Friday's game with a tight hamstring, the team said. It also noted it's not serious and he's day to day.
Mariners: Robinson Cano left Friday's game with a sore right foot, but the game was out of hand and the move was deemed precautionary (mariners.com).
Nationals: Nate McLouth is getting a second opinion on his injured shoulder (nationals.com).
Padres: Pitching prospect Max Fried will have to undergo Tommy John surgery, the team announced.
Pirates: Gerrit Cole threw seven shutout innings in a 92-pitch rehab start (pirates.com).
Rangers: Yu Darvish is expected to return Aug. 25 (dallasnews.com). Derek Holland isn't expected back before September (texasrangers.com).
Rays: Wil Myers could return next week (tbo.com).
Red Sox: Allen Craig may begin his rehab assignment Monday (redsox.com). Dustin Pedroia fouled a ball off his foot and will be re-evaluated Saturday (Tim Britton).
Reds: Todd Frazier has lower back soreness and is listed as day to day (reds.com).
Royals: Eric Hosmer is still a week away from being able to swing a bat (royals.com).
Tigers: Justin Verlander won't be picking up a baseball until Tuesday, says Brad Ausmus (detroitnews.com).
White Sox: Avisail Garcia could be returning to the lineup this weekend. This after he was deemed to have suffered a season-ending injury in April (whitesox.com).
Yankees: Masahiro Tanaka is set to begin throwing off a mound.
MISCELLANY
Cardinals: With the rest of the lefties back in the lineup Friday, Oscar Taveras was benched in favor of Shane Robinson (stltoday.com).
Rusney Castillo: The Cuban outfielder is now taking offers and could make a decision to sign next week, per nypost.com. Joel Sherman further reports that the Yankees, Red Sox and Tigers are "major players."
Giants: The club expects to discuss a role with the organization for 2015 with Barry Bonds (sfgate.com).