MLB injury, news and rumors roundup for Aug. 2
Get caught up on all things MLB here in our news, rumors and injury roundup for the day.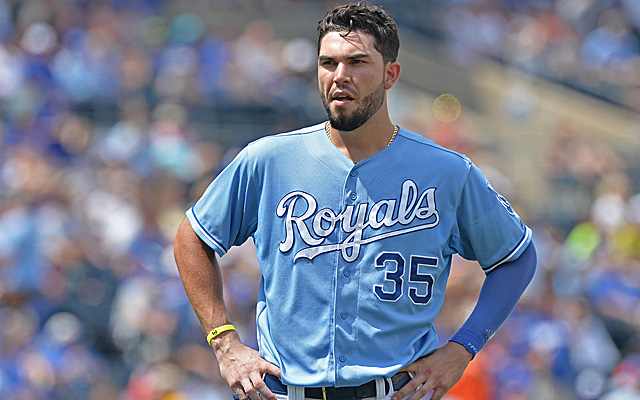 More MLB: Power Rankings | Expert Picks | Latest news & notes | Fantasy news
A great Saturday of MLB action has concluded, so it's time to go to the roundup machine. Necessary reminder: Click through on the provided links where available for the full story.
ROSTER MOVES
Angels: C.J. Wilson was activated from the DL, with J.B. Shuck being sent down to make room.
Diamondbacks: Paul Goldschmidt has a fractured left hand and was placed on the 15-day DL.
Giants: Brandon Belt was reinstated from the disabled list, with Jarrett Parker being sent down as a corresponding move.
Mariners: James Paxton was activated from the DL while Corey Hart was placed on it. 
Marlins: Anyone remember that they signed Miguel Tejada to a minor-league deal? Well, he was released Saturday (sun-sentinel.com).
Red Sox: David Ross was placed on the DL, with Dan Butler getting called up in his spot.
Royals: Jason Vargas returned from the DL.
INJURY UPDATES
A's: Coco Crisp is still sitting out with his neck issue, but the A's won't put him on the DL (athletics.com). Also, Nick Punto injured his hamstring Saturday and is headed to the DL (athletics.com).
Angels: Reliever Joe Thatcher left Saturday's game with a sprained left ankle, per the ballclub. Also, Josh Hamilton is playing through a bruised finger (angels.com).
Astros: George Springer is on track to return August 5 (Ultimate Astros). Dexter Fowler is also nearing a return (Ultimate Astros).
Brewers: Jimmy Nelson is set to start Tuesday with his blister having healed (brewers.com). Scooter Gennett left Saturday's game with a quad issue and is unlikely to play Sunday (Adam McCalvy).
Cardinals: Jon Jay is still dealing with a sore wrist (stltoday.com).
Dodgers: Paul Maholm has a torn ACL. Also, Yasiel Puig, Adrian Gonzalez and A.J. Ellis were all out of the starting lineup Saturday, but the injuries are only minor (dodgers.com).
Giants: Hector Sanchez believes he's ready to come off the concussion DL (sfgiants.com).
Padres: Andrew Cashner will make a minor-league rehab start Friday (UTSanDiego.com).
Phillies: Ben Revere is dealing with pain in his right ankle (phillies.com).
Pirates: Gerrit Cole was supposed to start in Triple-A to complete his rehab assignment Saturday, but instead he threw a bullpen session and it sounds like there's been at least a small setback (pirates.com).
Rays: Wil Myers eyes a rehab assignment, possibly as early as next Saturday (raysbaseball.com).
Red Sox: Shane Victorino had an MRI on his back that didn't sound too promising.
Rockies: Michael Cuddyer is hitting off the tee and progressing toward a return (denverpost.com). Carlos Gonzalez missed Saturday's starting lineup with an ankle issue, but he could avoid the DL (rockies.com).
Royals: Eric Hosmer's CT-scan didn't reveal anything more serious than a stress fracture and he won't need surgery (Andy McCullough).
Twins: Positive developments in Ricky Nolasco's rehab (startribune.com).
MISCELLANY
Braves: Legendary broadcaster Pete Van Wieren died at age 69. Also, in light of his recent struggles, the Braves will skip Mike Minor's next start. 
Mets: A fan fell onto the field and it sounds like he at least broke his arm.
Phillies: First-rounder Aaron Nola is headed to Double-A for a start Wednesday (philly.com).
Jim Thome: The future Hall of Famer (at least hopefully) signed a one-day contract with the Indians to officially announce his retirement.
Boston wants to add two big bats to their lineup, not just one

Even more relievers signed on the final day of the Winter Meetings

Keep tabs on the top 50 free agents right here
The league is not happy Ohtani's medical information leaked

Kansas City and Baltimore were quite busy at the Rule 5 Draft

Piscotty's mother was diagnosed with ALS earlier this year