MLB injury, news and rumors roundup for June 14
It's time to roundup all things MLB, including Michael Taylor being traded to the White Sox.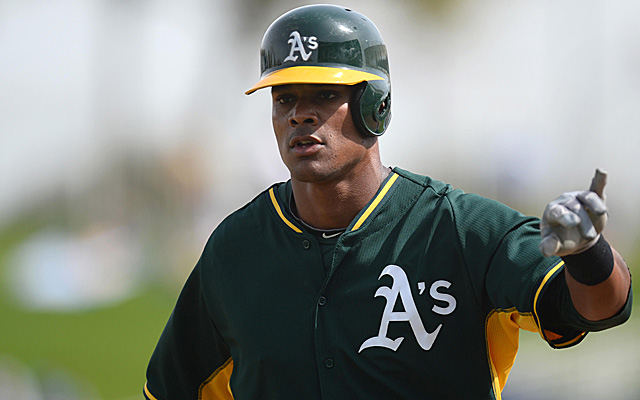 More MLB: Power Rankings | Expert Picks | Latest news & notes | Fantasy news
We're officially at the halfway point of June. The season sure moves fast, huh? Let's round 'em up, all that newsy goodness for the night.
ROSTER MOVES
A's/White Sox: Former top-flight prospect Michael Taylor has been traded to the White Sox in exchange for minor-league pitcher Jake Sanchez, the clubs announced.
Blue Jays: Sergio Santos has been activated from the disabled list. As a corresponding move, outfielder Darin Mastroianni was optioned back to the minors.
Brewers: The club announced it has signed first-round draft pick Kodi Medeiros.
Dodgers: Chone Figgins was placed on the DL and Carlos Triunfel was recalled from the minors as a corresponding move.
Marlins: First-round pick Tyler Kolek has been signed to a $6 million deal.
Padres: Reliever Troy Patton was placed on the DL with a shoulder injury.
Pirates: Vance Worley will get the start Sunday in Francisco Liriano's rotation spot (triblive.com).
Reds: With Mat Latos activated from the DL, Sean Marshall was placed on the DL and Tony Cingrani was moved to the bullpen (Cincinnati.com).
Twins: Aaron Hicks was placed on the DL while Sam Fuld was activated.
INJURY UPDATES
Angels: Tyler Skaggs is on schedule to return to the rotation from the DL next Saturday (Angels.com).
Astros: Jose Altuve missed Saturday's game with a bruised hand, but he's expecting to return to the field Sunday (Ultimate Astros). Reliever Josh Fields left Saturday's game with a muscle strain in his right forearm (Astros.com).
Athletics: Josh Reddick could be activated from the DL Monday, but he also might need a rehab stint (MLB.com).
Blue Jays: R.A. Dickey left his start with groin tightness, but he lasted 6 2/3 innings and it doesn't sound serious. Also, X-rays were negative on Adam Lind's bruised foot (John Lott).
Braves: Despite being hit in the hand with a pitch Friday, Jason Heyward was in the lineup Saturday (ajc.com).
Cardinals: Adam Wainwright will miss his next start, but for now the plan is only one.
Cubs: Closer Hector Rondon has a sore elbow, but it isn't serious and he appears set to avoid a DL stint. Also, Emilio Bonifacio has been placed on the 15-day DL due to an oblique strain (Cubs.com).
Mets: Curtis Granderson missed his third straight game with a calf injury.
Nationals: Wilson Ramos is expected to return from the DL after his 15-day minimum (Nationals.com).
Red Sox: Stephen Drew again missed a game and could be headed for the DL due to an oblique issue (boston.com). Will Middlebrooks and Clay Buchholz are starting minor-league rehab assignments, and Shane Victorino will be there soon, too (bostonherald.com).
Rockies: The club is hopeful Troy Tulowitzki won't be out long, but they're awaiting MRI results on his injured toe (Rockies.com). Also, Jorge De La Rosa isn't expected to miss his next start, despite having a back issue (Rockies.com).
Royals: Alcides Escobar has a left calf issue, but he played through it Saturday (Royals.com).
Twins: Trevor Plouffe left Saturday's game with an oblique strain (Twins.com).
Yankees: Mark Teixeira was a late scratch from the lineup due to a rib injury (ESPN New York).
MISCELLANY
Angels: Despite his struggles, Albert Pujols won't be dropped in the batting order (latimes.com).
Braves: Fredi Gonzalez considered batting rookie Tommy La Stella second (ajc.com).
Cubs: The team is actively in trade talks regarding starting pitchers Jason Hammel and Jeff Samardzija. The Braves, Mariners and Blue Jays have been mentioned as suitors (suntimes.com).
Giants: Brandon Hicks was given the day off to clear his mind and help him break out of a slump (Giants.com).
Mariners: Taijuan Walker went 6 2/3 innings in a Triple-A start, allowing only one hit and one run while striking out seven.
Mets: Manager Terry Collins' job is safe (newsday.com).
Phillies: Are they going to have a firesale? Ruben Amaro discusses with philly.com. Also, Jimmy Rollins is now the franchise record-holder in hits. Would he accept a trade? "It really depends if everything is blown up," he said (csnphilly.com). "Then you take that into consideration. If they blow everything up, then of course."
Bosio is the latest name in a loaded free-agent class for pitching gurus

Chad Green won't be available in Game 7 and David Robertson looks worn down

Cora, the Astros bench coach, is the hottest available managerial prospect
The Yankees and Astros close out the ALCS on Saturday, and each side has pros and cons going...

Who will win Game 7 of the ALCS on Saturday night? SportsLine has a strong lean on one sid...

The Astros find themselves looking to complete a comeback in the series at home