MLB injury, news and rumors roundup for June 26
Another day, another MLB roundup -- with news on Bryce Harper, Francisco Lindor, Nolan Arenado, Derek Holland, Jeff Samardzija and more.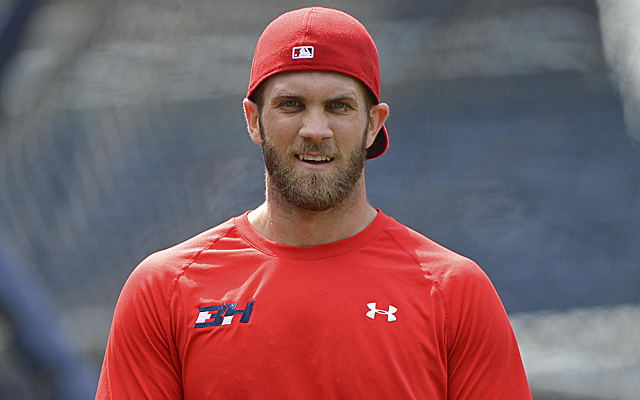 More MLB: Power Rankings | Expert Picks | Latest news & notes | Fantasy news
We've reached the end of another excellent night of Major League Baseball action, which means it's time to round up all the non-game news here in one tidy post. As a reminder, the full stories (where applicable) can be viewed by clicking on the provided link.
ROSTER MOVES
Astros: Jose Veras was activated and Kyle Farnsworth was outrighted to the minors.
Dodgers: As expected, Juan Uribe returned from the DL, with Carlos Triunfel optioned back to Triple-A.
Mets: They activated Juan Lagares and optioned shortstop Wilmer Flores to Triple-A, meaning they now have six outfielders and no backup middle infielder (Mets.com).
Nationals: Wilson Ramos returned from the DL, with Sandy Leon heading back to Triple-A.
Phillies: Double-A prospect Jesse Biddle is now on the inactive list, as he is "miserable" and "unhappy" when he's pitching.
Reds: Tony Cingrani is now on the Triple-A DL with a shoulder issue (reds.com).
Twins: They called up infielder Jorge Polanco all the way from Class A. He would walk and score a run in his big-league debut.
INJURY UPDATES
Blue Jays: Steve Tolleson is going through eye issues, specifically dryness and blurriness (torontosun.com).
Cardinals: They'll be cautious with the back injury of Shelby Miller (cardinals.com).
Cubs: Believe it or not, Junior Lake escaped a crash into the Wrigley Field wall with just bruises.
Dodgers: Hanley Ramirez is still out with a shoulder injury and Carl Crawford has started running (Dodgers.com).
Indians: Top prospect Francisco Lindor has a nasal fracture and could return within 7-10 days (MLB.com).
Nationals: Bryce Harper played seven innings for Double-A Harrisburg Thursday night, going 1-for-3 with a double. He'll play three more rehab games before a decision is made, but he could well be back with Washington Monday (washingtonpost.com).
Orioles: Bud Norris is likely headed to the DL for a very short stint, due to a strained groin (School of Roch).
Rangers: Derek Holland is "itching" to get out on his minor-league rehab assignment (rangers.com). Also, Alexi Ogando got some good news from Dr. James Andrews (dallasnews.com).
Rockies: Nolan Arenado hit off a tee Thursday and plans to take batting practice Friday. A rehab assignment could begin within a week (Patrick Saunders via Twitter).
White Sox: Adam Eaton left the game Thursday after one at-bat due to left leg cramps (whitesox.com).
MISCELLANY (including trade rumors)
All-Star Game: Yu Darvish will be on one day rest and therefore doesn't want to pitch in the Midsummer Classic (dallasnews.com).
Cubs: Our own Jon Heyman has an excellent read up about Jeff Samardzija's trade value.
Home Run Derby: The Astros won't prevent George Springer from participating (Ultimate Astros). Anthony Rizzo would love an invite and the Cubs won't stand in his way, either (csnchicago.com). Paul Goldschmidt won't rule out participating (azcentral.com). Jose Abreu has said he isn't interested, but Jose Bautista (the AL Captain) says he wants to talk to him about it (whitesox.com).
Phillies: Domonic Brown was benched Thursday (philly.com).
Stanton warned Marlins fans about the lean years that are forthcoming

The World Series champions aren't complacent

Stanton swiped at his old team on his way out
Your one-stop shop for all things MLB Winter Meetings-related

Matt Harvey could be on his way out of New York

The Nationals are looking to improve on the edges of their roster