MLB injury, news and rumors roundup for May 24
Our nightly roundup hits on Hanley Ramirez, Matt Cain, Ben Zobrist, the Astros' approach, A.J. Pierzynski in the locker room and much more.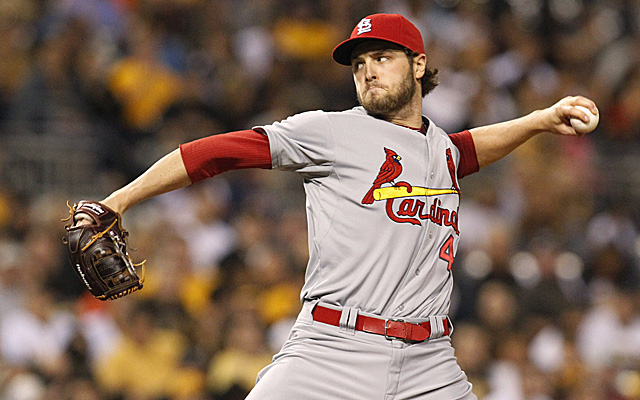 More MLB: Power Rankings | Expert Picks | Latest news & notes | Fantasy news
After a great day of action, let's get to the nightly roundup.
As a reminder, these are just quick-hitters. For the full story, click on the provided links where applicable.
ROSTER MOVES
Cardinals: Left-handed reliever Kevin Siegrist was placed on the disabled list due to a left forearm strain, the club announced. As a corresponding move, lefty Sam Freeman was recalled from Triple-A.
Orioles/Padres: The Orioles traded Troy Patton to the Padres for Nick Hundley.
Rangers: Joe Saunders will take over in the rotation for Scott Baker (dallasnews.com).
Red Sox: Shane Victorino had to be placed on the DL again. Also, Brandon Workman will be activated Sunday to start against the Rays (RedSox.com).
Rockies: As expected, Nolan Arenado was placed on the DL with his fractured finger. As a corresponding move, Josh Rutledge was recalled.
INJURY UPDATES
Athletics: Jed Lowrie didn't start due to neck soreness (A's official site). John Jaso is resting the entire Toronto series due to back tightness (A's official site). Nick Punto is day to day with a calf strain but could avoid the DL (A's official site).
Braves: Jonny Venters, attempting to come back from the second Tommy John surgery of his career, will throw a bullpen session Sunday (ajc.com). After missing four games with an illness, Evan Gattis is back (ajc.com).
Brewers: Jimmy Nelson is set to start for Yovani Gallardo Sunday, but it's likely to be a spot start, as Gallardo should be back for his next turn (Brewers.com).
Cardinals: Peter Bourjos was a late scratch from the lineup due to a stomach virus, the club announced.
Dodgers: Hanley Ramirez was a late scratch from the lineup Saturday due to calf soreness (latimes.com).
Giants: Matt Cain threw a real short bullpen session Saturday and his next scheduled start is still in question (csnbayarea.com). In fact, the Giants have now announced that Cain will have his start skipped, as Yusmeiro Petit will start Monday.
Mariners: Unless there's a setback before then, Taijuan Walker will make a rehab start Wednesday (seattletimes.com).
Mets: Travis d'Arnaud will begin his rehab assignment in Double-A Sunday, the club announced.
Nationals: Adam LaRoche is set to come off the DL Sunday. Gio Gonzalez threw off flat ground without any discomfort (Nationals.com).
Orioles: Manny Machado was out of the lineup again, but the club believes he'll be back soon (Orioles.com).
Padres: Andrew Cashner threw from flat ground (UT San Diego).
Phillies: Cody Asche has tendinitis in his left hamstring (Phillies.com). Domonic Brown is day to day with back spasms (Phillies.com).
Rangers: Daniel Robertson looks likely to avoid the DL, despite facial fractures (dallasnews.com). Also, Shin-Soo Choo left Saturday's game with discomfort in the ankle that kept him out a few games several weeks ago (dallasnews.com).
Rays: Ben Zobrist expects to be ready to join the Rays Friday, when he's first eligible to come off the DL (Rays.com).
Red Sox: David Ortiz wasn't in the lineup Saturday. He has a minor calf issue, but it was a planned day off anyway. Mike Napoli was also out of the lineup as he deals with finger, calf and hamstring issues (Sean McAdam). Xander Bogaerts had to leave the game with a hamstring cramp.
Rockies: Carlos Gonzalez is still sidelined with a finger injury, but he's getting better (Rockies.com).
Yankees: A bruised knee kept Brian Roberts out of the lineup (Yankees.com).
MISCELLANY
Astros: Are some players in the organization growing unhappy with GM Jeff Luhnow and the front office's perceived overreliance on analytics? Check out this quote from the Houston Chronicle:
"I don't think anybody's happy. I'm not," one Astros player told the Chronicle recently on the condition his identity not be revealed. "They just take out the human element of baseball. It's hard to play for a GM that just sees you as a number instead of a person. Jeff is experimenting with all of us."
Dodgers: For the second straight game, Matt Kemp did not start and it sounds like manager Don Mattingly is considering regularly benching Kemp. The OC Register has the story.
Padres: Should they trade Carlos Quentin? U-T San Diego takes a look.
Red Sox: Is A.J. Pierzynski a problem? John Tomase of the Boston Herald thinks so.
TV: Fox Sports 1 wouldn't pay a Tigers cameraman the going rate and the broadcast suffered, says the Detroit News.
A beardless Wilson says that he tried to outrun the police on the second day he had his driver's...

The Diamondbacks outfielder was not impaired, he was just going way too fast

MLB can unilaterally implement rule changes, which will also include limits on mound visit...
If the MLBPA wants to repair MLB's salary structure, it should push for more money for young...

Fans aren't happy Gerrit Cole and Andrew McCutchen have been traded away

Acuna is arguably the best prospect in baseball