MLB likely set to ban plate collisions, and that's a very good thing
A sub-plot to the 2013 Winter Meetings might be a belated ban on catcher-baserunner collisions at home plate.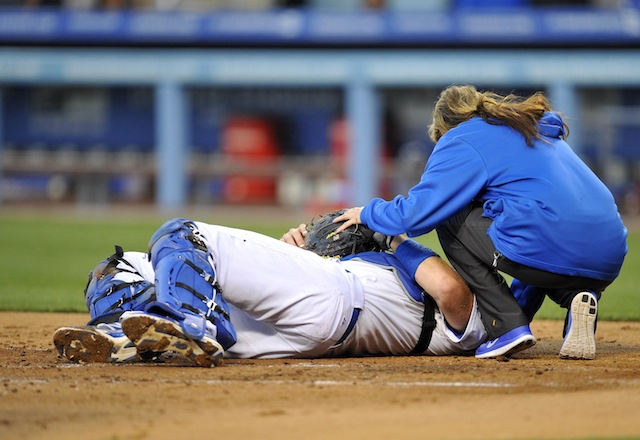 MORE: FA tracker: position players | FA tracker: pitchers | Winter Meetings updates
Underneath all the trade scuttle and free-agent conjecture is this bit of importance: The MLB rules committee is considering whether to ban collisions at home plate between the catcher and baserunner. Joel Sherman of the New York Post tweets that such a ban is likely to be passed and then sent to the Players Association to be finalized. This is good, belated thing for baseball. 
Doubtless, the Sectional-Sofa Gladiators among us will bemoan this fey slackening of the Manly Codes of Combat, but I'd remind them that if they require head trauma for purposes of entertainment, then there's plenty of football to watch. Another pre-emptive measure: "Wussification" is not a word, and even if it were a word, it would be an objectively inane one. 
As I've thundered before in this very space, plate collisions aren't a part of baseball history in any meaningful sense, and the usual precursor to such a collision -- i.e., the catcher's reposing in the base-path without the ball in his possession or within his reach -- is already against the rules. Please absorb those two italicized facts before trumpeting the putative old-school credentials of those who blow up catchers.
Furthermore, as Grant Brisbee of SB Nation points out, former catchers as flinty and lantern-jawed as Bruce Bochy, Mike Matheny and Johnny Bench have come out in favor of such changes. So there's your requisite appeal to authority. 
If all this comes to pass, then expect the existing rule about blocking the base-path to be enforced, and then expect some mandates with regard to how a runner may make contact with the catcher. Such mandates would likely require that he slide in such a way as to afford a realistic chance of, you know, actually touching the plate and that he make contact with the catcher only as a direct consequence of his effort to touch the plate. No more Scott Cousins-Buster Posey nonsense, in other words. 
Good for MLB for finally getting around to addressing this issue. 
Another team rumored to be interested in Stanton has confirmed their interest

Chris Woodward has spent the last two seasons with the Dodgers

We heard about it being awful for years, but was it?
Then again, three trades in four days might be behind Jerry Dipoto's usual pace

Ohtani is arguably the best hitter and pitcher in Japan

The O's need rotation help, and Cobb is available for hire