MLB, MLBPA announce 'upgrades' to Joint Drug Agreement
The penalties for PED use in Major League Baseball have been officially increased, including banning players who were suspended during the regular season from the postseason.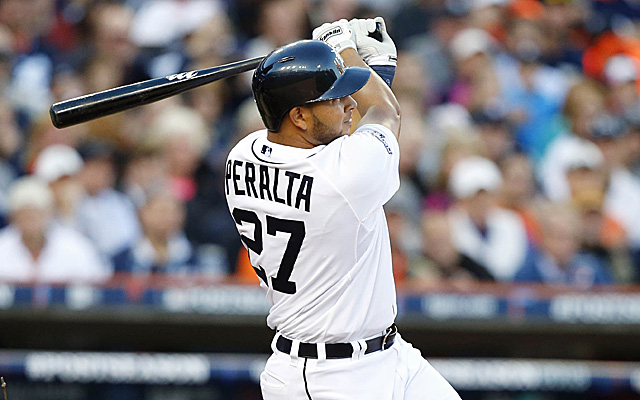 MORE: Predictions | Spring Training | Scoreboard | Team previews
Major League Baseball and the MLB Players Association have officially announced what they called in a press release "significant improvements to virtually every component of their Joint Drug Prevention and Treatment Program."
First and foremost, there are harsher penalties for first- and second-time offenders (third-time offenders were already banned for life and that penalty remains). A first offense was 50 games, now it's 80. A second offense used to be 100 games and now it's 162.
Not only that, any player who is suspended under the drug program will now be ineligible for the postseason for the season in which he was initially banned. This may have been in response to the outcry when the Tigers used Jhonny Peralta last postseason after he had completed his 50-game suspension for his ties to Biogenesis.
There is increased testing across the board, too.
"Major League Baseball is proud to announce some of the most significant improvements that we have made to our Program in recent years," Commissioner Bud Selig said in a statement. "Although we had the strongest Program in professional sports before these changes, I am committed to constantly finding ways to improve the Program in order to eradicate performance-enhancing drugs from the game and for MLB to serve as a model for other drug programs. I want to express my appreciation to the Players for being proactive and showing remarkable leadership in producing the new agreement. I commend them for both their foresight and their creativity throughout this process, and for strongly sharing our desire to improve what is already the toughest drug program in sports."
Scoff if you wish, but he's right. MLB is now far and above any other pro sport when it comes to going after PED use (check out the list at the bottom of this very article for the details). Not that this will prevent the national double-standard when it comes to handwringing over baseball players compared to other sports -- but that's something we'll leave aside for now.
"Experience proves that increased penalties alone are not sufficient; that's why the Players pushed for a dramatic increase in the frequency and sophistication of our tests, as well as comprehensive changes in a number of other areas of the program that will serve as a deterrent," said new MLBPA executive director Tony Clark. "Make no mistake, this agreement underscores the undisputed reality that the Players put forward many of the most significant changes reached in these negotiations because they want a fair and clean game."
As for a list of the majors changes, feel free to dive in the extensive list below, directly from the MLB/MLBPA press release:
· The number of in-season random urine collections will more than double beginning in the 2014 season (from 1,400 to 3,200), which are in addition to the mandatory urine collections that every player is subjected to both during Spring Training and the Championship Season. This represents the largest increase in testing frequency in the Program's history.

· Blood collections for hGH detection - which remains the most significant hGH blood testing program of its kind in American professional sports - will increase to 400 random collections per year, in addition to the 1,200 mandatory collections conducted during Spring Training.

· A first-time performance-enhancing substance violation of the Joint Drug Program will now result in an unpaid 80-game suspension, increased from 50 games. A player's second violation will result in an unpaid 162-game suspension (and a loss of 183 days of pay), increased from 100 games. A third violation will result in a permanent suspension from Baseball.

· A Player who is suspended for a violation involving a performance-enhancing substance will be ineligible to participate in the Postseason, and will not be eligible for an automatic share of the Player's Pool provided to players on Clubs who participate in the Postseason. (Such Players are already ineligible to participate in the All-Star Game.)

· Every Player whose suspension for a performance-enhancing substance is upheld will be subject to six additional unannounced urine collections, and three additional unannounced blood collections, during every subsequent year of his entire career.

· Carbon Isotope Ratio Mass Spectrometry (IRMS) will be randomly performed on at least one specimen from every player in addition to any IRMS test that the laboratory conducts as a result of the parties' longitudinal profiling program (which was implemented prior to the 2013 season) and the World Anti-Doping Agency (WADA) guidelines for conducting IRMS.

· The parties established a program in which Players will have year-round access to supplements that will not cause a positive test result and which will improve home and visiting weight rooms.

· The parties provided the Arbitration Panel with the ability to reduce a Player's discipline (subject to certain limitations) for the use of certain types of performance-enhancing substances if the Player proves at a hearing that the use was not intended to enhance performance;

· The parties added DHEA to the list of banned substances and enhanced the confidentiality provisions of the Program.
Gallardo spent the first eight years of his career in Milwaukee

MLB revenues are at a record high right now, but teams aren't spending it on players

Chicago added Tyler Chatwood earlier this offseason but might not be done adding to the ro...
The Dodgers and Braves pulled off a whopper on Saturday

Sabathia will reportedly spend a 10th season in the Bronx

Fowler suffered a knee injury at Chicago's Guaranteed Rate Field