MLB must suspend Cole Hamels for hitting Bryce Harper
Cleveland pitchers Ubaldo Jimenez and Jeanmar Gomez have already been suspended this season because it was suspected they hit a batter on purpose -- Philadelphia's Cole Hamels admitted he hit Bryce Harper just because he was a rookie. Admission of guilt must result in a penalty.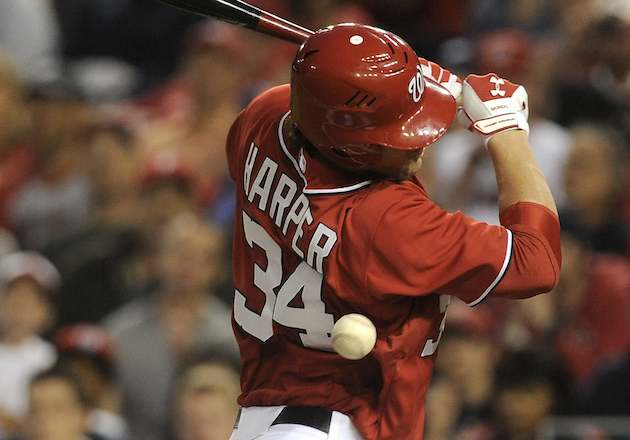 Expect
Cole Hamels
to get a call from Joe Garagiola Jr., but the question is whether he will receive a suspension for admitting he hit Washington
Nationals
rookie
Bryce Harper
on purpose in Sunday night's game?
He must.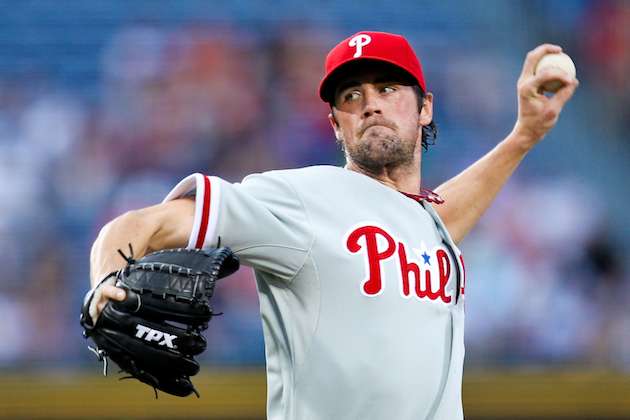 When a pitcher is suspected of hitting a batter on purpose and ejected based upon the umpire's judgment, that pitcher is suspended. Already this season, Cleveland's Ubaldo Jimenez and Jeanmar Gomez for what was only believed to be intentional beanings -- here there's no need to assume anything, Hamels came out and said he hit Harper on purpose.
From the Associated Press:
"I was trying to hit him, I'm not going to deny it."
And:
"That's something I grew up watching, that's kind of what happened. So I'm just trying to continue the old baseball because I think some people are kind of getting away from it. I remember when I was a rookie the strike zone was really, really small and you didn't say anything because that's the way baseball is," Hamels said.

"But I think unfortunately the league's protecting certain players and making it not that old-school, prestigious way of baseball," he said.

In other words, Hamels said, "It's just, 'Welcome to the big leagues.'"
And to Hamels, Garagiola, MLB's chief disciplinarian, should say, "Welcome to the big leagues' suspended list." There will be plenty of people out there praising Hamels because he hit the young guy and talking about the good old days of baseball, old-school and all that. Well, there's a reason it's old-school -- it's old. It's stupid, macho ... I hesitate to use the word "thinking" here because it's not thinking, it's a reaction. And it's wrong.
It's not just wrong because it's Harper -- if Hamels had decided to hit Steve Lombardozzi just because Lombardozzi is a rookie, it'd be just as wrong. A baseball thrown at 93 mph, as the pitch that hit Harper in the ribs was, can do damage to the human body. Had it hit Harper in the wrist or the knee or, God forbid, the head, it could have done serious damage to his career. Yes, Hamels has very good control, but he has no control over how Harper would respond to a pitch inside, moving one way or another, he could have found himself in danger. Luckily, Harper did exactly what he was supposed to do, turn into the pitch and allow it to hit him in the small of the back. But Hamels tried to impact his own sense of morality and beliefs of some vague code, based soley on his own perception of what is "old school" or "the right way to play." No, instead, it's selfish and stupid. It's no less of a "look at me" grandstanding than a batter admiring his home run or a player celebrating a steal of him -- moreover it's worse. How skewed are our beliefs of what is right in baseball that a person celebrating his own accomplishment is bad, while risking injury to another player is good?
People will also note that Harper didn't have a problem with it, joking about it afterward, but that should be a credit to Harper, not Hamels. Harper has plenty on his plate as it is and he did his best to get back at Hamels by taking care of business on the field. Off the field, that's for Garagiola to decide.
Hamels will most likely receive a fine, and hopefully at minimum get the joke of a suspension that all starters get (five games, meaning they get bumped back a game), but he should receive even more -- at the very least 10 games (which for a start is like one game). If Jimenez and Gomez are suspended for the suspicion of hitting a batter on purpose, someone who admits to the crime, must do the time.
For more baseball news, rumors and analysis, follow @EyeOnBaseball on Twitter, subscribe to the RSS feed and "like" us on Facebook.
In the last two votes, Clemens has gained nearly 17 percent in Hall of Fame voting

The results of the BBWAA Hall of Fame vote are revealed Wednesday, Jan. 24

Does the Jackson signing mean the Giants are out on Lorenzo Cain?
Acuna edged out Shohei Ohtani and Vladimir Guerrero Jr.

There's no reason to run over the cases for and against Bonds, so let's have fun instead

The coveted right-hander would certainly be a fit in Milwaukee