MLB news, injury and rumors roundup for Sept. 4
Time for the nightly roundup, with updates on Josh Hamilton, Matt Adams, Matt Moore, Dustin Pedroia, Paul Konerko's retirement ceremony and the MASN dispute between the O's and Nats.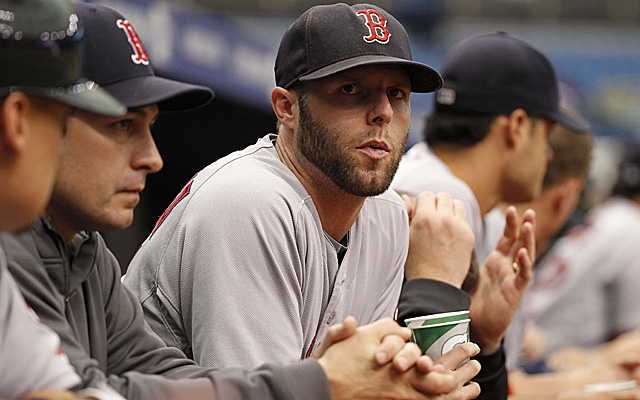 The Tigers maintained a half-game lead for the second AL wild card over the Mariners, while also creeping to within one game of the Royals in the AL Central. The Orioles won again, keeping that 9.5 game lead over the Yankees. The Angels won, pushing their AL West lead to five games and the Cardinals took down the Brewers, moving to four games up in the NL Central. The Brewers have lost nine in a row. Don't forget about the Blue Jays and their five-game winning streak.
As for the off-field action, we've got you covered. Click on through the provided links for the full story, where applicable.
INJURY UPDATES
Angels: Josh Hamilton left Thursday's game with a sore right shoulder, per the broadcast. Also, Joe Thatcher threw a simulated game (angels.com).
Blue Jays: Reliever Chad Jenkins broke his hand during batting practice and is expected to be out for the season (Associated Press).
Cardinals: Matt Adams is dealing with left oblique soreness (Derrick Goold).
Indians: Mike Aviles is dealing with a concussion (ohio.com).
Mets: They'll shut down Matt Harvey for the rest of the year. Also, Bobby Parnell is on track to be ready for spring training (nj.com).
Rays: Matt Moore is set to begin rehabbing from Tommy John surgery when he throws a ball for the first time Monday (tbo.com).
Red Sox: As he recovers from a concussion, Dustin Pedroia is expected to return to the lineup Friday (redsox.com).
Reds: Homer Bailey needs to undergo season-ending elbow surgery.
Tigers: Alex Avila has been cleared to play and Joakim Soria is set to throw a bullpen session (tigers.com).
Twins: Tommy Milone will miss his Sunday start with a tired arm (startribune.com).
Yankees: Masahiro Tanaka will throw a bullpen session Saturday. David Phelps will also throw a bullpen (yankees.com).
ROSTER MOVES, TRANSACTIONS, RUMORS, MISCELLANY
Angels: John McDonald may retire after this season (angels.com). Also, Cory Rasmus will get another start on Saturday (ocregister.com).
Cardinals: Xavier Scruggs was added to the big-league club (stltoday.com).
Todd Coffey: The Mariners have released him from his minor-league deal (Jon Heyman).
MASN: The Orioles and Nationals aren't gonna meet until December regarding their cable TV dispute (washingtonpost.com).
Padres: Heath Bell wants to rejoin the club next season (Barry Bloom).
White Sox: The well-deserved Paul Konerko tribute in US Cellular Field will be held Sept. 27 (whitesox.com).
Yankees: They intend to bring GM Brian Cashman back, reports Jon Heyman.
The Marlins are indeed in teardown mode under new ownership

The Marlins still have more attractive pieces

The A's need outfield help, and the Cardinals have a glut
Minnesota has designs on the best starting pitcher available on the free agent market

The Cardinals have long coveted the Miami outfielder

The superstar slugger is eligible for free agency after next season