MLB, NPB appear to be closing in on posting system agreement
Major League Baseball is reportedly close to agreeing on a new posting system with Japan's Nippon Professional Baseball. Reports indicate the posting fee would be capped at $20 million.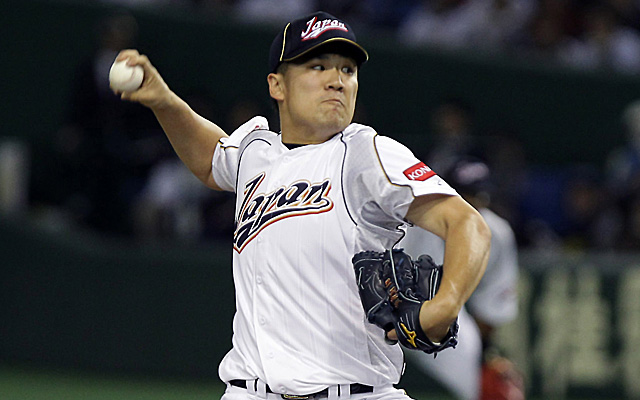 Major League Baseball and Nippon Professional Baseball are still in the process of working toward an agreement on a new posting system for bringing Japanese players to the United States before they hit free agency in NPB. Reports Wednesday indicate a deal is nigh, though.
Japanese outlet Sanspo reported that NPB is expected to accept MLB's proposal of a $20 million posting fee limit and Fox Sports' Jon Morosi confirmed that this is indeed the case.
From here, though, things get a bit murkier.
Some reports -- such as from Bill Shaikin of the Los Angeles Times -- indicate that if multiple teams bid the max $20M posting fee, the player would then get to negotiate with only the teams that bid the max. So if, say, seven teams bid $20 million for the right to negotiate with ace pitcher Masahiro Tanaka, those seven would get to negotiate a contract with Tanaka and he'd ultimately get to decide with whom he signed. The team that was able to sign him would then pay Tanaka's NPB team (the Rakuten Golden Eagles) $20 million while the other six wouldn't have to pay a dime.
[NOTE: This is just an example, because I'm certain more than seven teams would be willing to pay that posting fee for Tanaka.]
On the other hand, there is another report floating around that if multiple teams bid the maximum posting fee amount that the team with the lowest winning percentage from the previous season would get to exclusively negotiate with the player in question.
If that's the case, it's a pretty easy bet that the Astros sign Tanaka.
It's hard to figure this actually being the system that's agreed upon. If there's a player like Tanaka ready to post, there would be some tanking issues down the stretch -- not to mention how relatively low the posting fee is. Every team can afford to post $20 million for the rights to bring over an ace like Yu Darvish has become. Thus, the worst team in the league would pretty much be guaranteed the player -- which may even force some guys to decide to stay in Japan until they hit free agency.
This is a big deal regardless, but it's especially huge this offseason as Tanaka is ready to post and would easily be the best starting pitcher available on the free agent market.
Tanaka, a 25-year-old right hander, was 24-0 with a 1.27 ERA, 0.94 WHIP and 183 strikeouts in 212 innings pitched. He led his team to the championship, too. He's about the same age Yu Darvish with slightly better numbers than Darvish at the time the latter posted, so obviously Tanaka will be a hot commodity once (if?) he's posted this offseason.
In terms of the $20 million maximum posting fee, it's actually pretty surprising that the individual teams in Japan are willing to accept a fee this low for premier talent. Daisuke Matsuzaka landed the Seibu Lions $51,111,111.11, Darvish landed the Hokkaido Nippon Ham Fighters $51,703,411 and even Kei Igawa landed the Hanshin Tigers a tick over $26 million.
Francisco leads the Dominican Winter League with seven home runs

Thome deserves enshrinement and here's why the case against him does not hold up

The Twins have already fortified the bullpen with Addison Reed, and now they want to address...
The Orioles likely want pitching, and the Indians have plenty of it

Halladay died in a November plane crash off the coast of Florida

The power-hitting outfielder is headed to Toronto