MLB officially adding HGH testing as part of drug program changes
Major League Baseball and the Players Association announced changes to its drug program on Thursday, including the addition of HGH testing, clarification of rules for collectors and making players suspended for a violation before the All-Star break ineligible for the All-Star Game.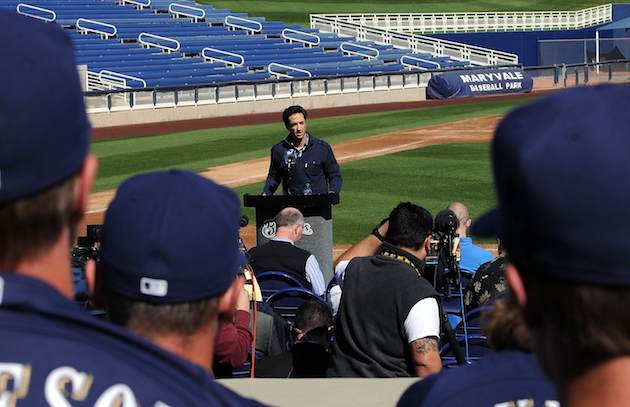 In response to both the new collective bargaining agreement and the
Ryan Braun
arbitration decision, Major League Baseball and the Players Association announced its changes to the Joint Drug Prevention and Treatment Program.
Here's the changes from the release:
· Adding HGH blood testing during Spring Training, during the off-season, and for reasonable cause.  The parties also agreed to study expanding hGH testing to the regular season.
· Increasing the number of random tests during the season and off-season.
· Modifying the Collection Procedures of the Program to clarify when collectors must deliver specimens to the courier, and how specimens should be stored prior to delivery to the courier.
·         Modifying the Appeals procedures of the Program, including the circumstances under which procedural deviations will result in the invalidation of test results. 
·         Creating an Expert Panel of recognized ADD/ADHD experts to advise the Independent Program Administrator ("IPA") on Therapeutic Use Exemption ("TUE") applications for ADD/ADHD medications, and another expert panel of medical professionals to advise the IPA on TUE applications for other medications.
·         Strengthening the protocols for addressing use by players of drugs of abuse.
·         Permitting public announcement of the specific substance that resulted in a player's positive test result or discipline.
    •    Making players who are suspended for violating the Program prior to the All-Star Break (including during Spring Training and the preceding off-season) ineligible to be elected or selected for the All-Star Game.
    •    Establishing a protocol for evaluating and treating players who may suffer from an alcohol use problem or who have engaged in off-field violent conduct.
    •    Clarifying the rules for violations for use or possession of prohibited substances based on evidence other than positive test results ("non-analytical positives.")
    •    Increasing the penalties for criminal convictions for possession or use of drugs of abuse (including stimulants).  
They also added more than 45 performance-enhancing substances and stimulants to the list of prohbited substances.
For more baseball news, rumors and analysis, follow @EyeOnBaseball on Twitter, subscribe to the RSS feed and "like" us on Facebook.
Arrieta is the top starting pitcher left on the market

The Angels are lowering the fence from 18 feet to 8 feet, so we should see a jump in home...

Mathis is one of the best at something that cannot be measured but is valued
J.D. Martinez is reportedly headed to Boston on a free-agent contract

Keep tabs on the top 50 free agents on the market right here

Arizona didn't waste much time turning to its fallback option following Martinez's deal with...