MLB over/under win lines released: Tigers, Dodgers, Nationals on top
One Las Vegas oddsmaker has released the over/unders for all 30 MLB teams. On top: The Tigers, Dodgers and Nationals, all with an over/under of 90 wins.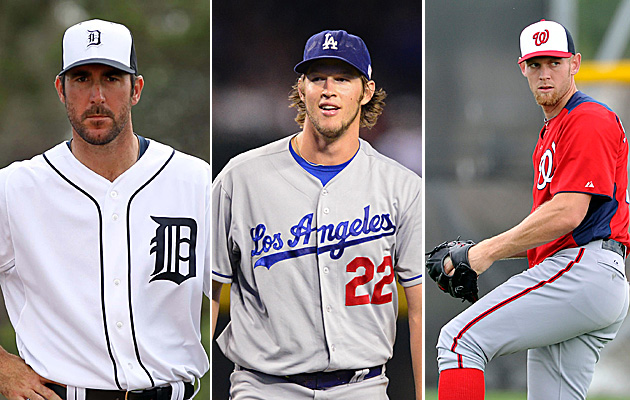 The teams with Verlander, Kershaw and Strasburg enter the season with high expectation. (US Presswire)
Spring training is here, and with it comes the attempt by fans and media everywhere to predict how each team will fare this coming season. And we can add gamblers to the aforementioned group of attempted prognosticators, because over/under win totals have been released for all 30 teams.
For those unaware, an over/under is a number assigned to each team as a betting point on the number of wins that a team will have this season. So if a team's over/under is 90 and you think that team will win 95 games, you would bet on the over.
Also, before we dive in, I would like to strongly point out that these are not predictions. Gambling organizations are in the business of making the most money possible, and that happens when they get as much money as possible on both sides of the line. So instead of a prediction, it's more an educated guess as to how the betting public will react, in an attempt to encourage more bets.
Here they are, from highest to lowest, via ViewFromVegas:
Dodgers, 90
Nationals, 90
Tigers, 90
Angels, 89.5
Reds, 88.5
Rangers, 87
Blue Jays, 86.5
Yankees, 86.5
Braves, 86
Giants, 86
Rays, 86
Cardinals, 85.5
Athletics, 83
Diamondbacks, 81.5
Phillies, 81.5
White Sox, 80.5
Brewers, 79.5
Red Sox, 79.5
Pirates, 79
Royals, 79
Indians, 77.5
Mariners, 76.5
Orioles, 76.5
Padres, 74.5
Mets, 74
Cubs, 72
Rockies, 71.5
Marlins, 64.5
Twins, 64.5
Astros, 59.5
Initial reaction time.
I love the over for the Nationals, Braves, Blue Jays and A's. I feel like the Padres are better than 74 wins, too. I don't love the under for any of the 30 teams, as many of the totals appear conservative and begging people to bet the over, but I think I could be talked into the Diamondbacks and Pirates there.
For more baseball news, rumors and analysis, follow @EyeOnBaseball on Twitter, subscribe to the RSS feed and "like" us on Facebook. Also, individually interact with us on Twitter: @MattSnyder27, @daynperry and @mikeaxisa.

The O's need rotation help, and Cobb is available for hire

The Red Sox and Cardinals are expected to make trade offers next

The free agent first baseman may be a fit in St. Louis
The front office changes in Atlanta continue

The Marlins are more likely than you think on our list

Judge finished a distant second in the balloting and he paid respect to the winner