MLB reveals umpire assignments for wild-card, divisional rounds
Here are the umpiring crews for the wild-card and divisional round playoff games.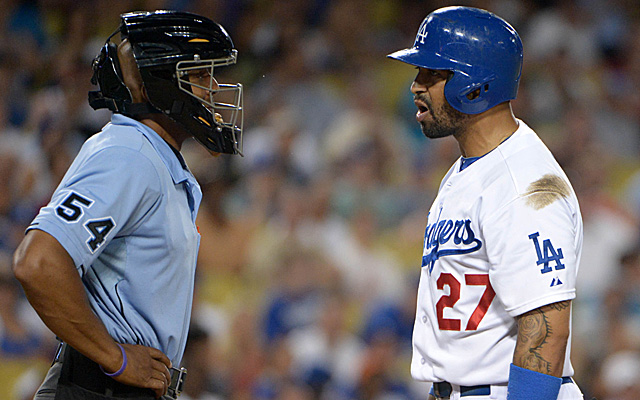 Major League Baseball announced umpiring assignments for the wild-card and divisional playoff rounds Monday. Here they are:
Reds-Pirates wild-card game: Joe West (home plate), Dale Scott, Dan Iassogna, Rob Drake, Tim Timmons and Lance Barksdale.
RaysTexas Rangers-Indians wild-card game: Gerry Davis (home plate), Ted Barrett, Mike Everitt, Greg Gibson, Phil Cuzzi and Brian Knight.
Reds/Pirates-Cardinals NLDS: Jerry Layne (crew chief), Wally Bell, Sam Holbrook, Jim Joyce, Paul Nauert and Tony Randazzo.
Dodgers-Braves NLDS: John Hirschbeck (crew chief), Laz Diaz, Marvin Hudson, Bill Miller, Tim Welke and Hunter Wendelstedt.
Rays/Indians-Red Sox ALDS: Dana DeMuth (crew chief), Eric Cooper, Paul Emmel, Chris Guccione, Larry Vanover and Mike Winters.
Tigers-Athletics ALDS: Gary Darling (crew chief), CB Bucknor, Mike DiMuro, Tom Hallion, Jim Reynolds and Mark Wegner.
I'm not going to nitpick these selections, but I can't believe Bucknor got an assignment. I feel like you could poll players, managers, coaches, front office personnel, media, fans, etc. and the answer would always be the same: Bucknor is generally regarded as the worst umpire in Major League Baseball. It's hard to trust the evaluation process if he's getting a postseason series.
On the bright side, he's doing the Tigers series. An epic Jim Leyland meltdown could be on the menu.
Wright was arrested at his home Friday

The former Tigers teammates were voted into Cooperstown by the 16-person Modern Era Commit...

The Yankees still have room for a good-sized signing even after Saturday's trade with Miam...
St. Louis gets some much needed help for their bullpen

Keep tabs on the top 50 free agents right here

Morrow thrived with the Dodgers last season