MLB rumors, injuries and news roundup for April 18
A retirement, a long-term extension and a trade headline Friday's baseball news. Here's a recap of the day.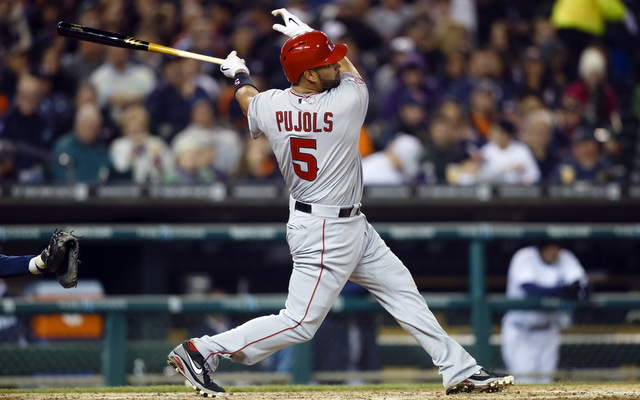 More MLB: Power Rankings | Expert Picks | Latest news & notes | Fantasy news
Los Angeles Angels first baseman Albert Pujols clubbed his 497th career home run on Friday, so he could hit his 500th dinger any day now. The 500-homer plateau isn't as impressive as it once was, but there's no doubt it's a big accomplishment. Here is a recap of the rest of Friday's news.
RETIREMENTS
UTIL Jason Bartlett: Has informed the Minnesota Twins he is retiring. He made the Opening Day roster but suffered an ankle sprain early in the season. (St. Paul Pioneer Press)
SIGNINGS & TRADES
Oakland Athletics : Signed LHP Sean Doolittle to a five-year contract extension with two club options. Financial terms are unknown.
Milwaukee Brewers : Signed RHP Jeremy Jeffress to a minor league contract, the club announced.
Pittsburgh Pirates : Acquired 1B Ike Davis from the New York Mets for minor league RHP Zack Thornton and a player to be named later, the team announced. The player to be named is said to be "fairly significant."
ROSTER MOVES
Angels: Recalled RHP Josh Wall from Triple-A and sent down LHP Jose Alvarez , the team announced.
Toronto Blue Jays : Activated SS Jose Reyes (hamstring) off the DL and called up IF Juan Francisco , the team announced. IF Munenori Kawasaki was optioned to Triple-A.
Arizona Diamondbacks : Designated LHP Ryan Rowland-Smith for assignment, the team announced. OF Cody Ross (hip) was activated off the DL in a corresponding move.
Mets: Activated OF Chris Young (quad) off the DL, it was announced. He takes Davis' roster spot.
Washington Nationals : Called up LHP Xavier Cedeno from Triple-A, the team announced. RHP Blake Treinen was send down to clear a roster spot.
Philadelphia Phillies : Recalled RHP Shawn Camp from Triple-A and demoted RHP Jonathan Pettibone , the team announced.
Texas Rangers : Designated IF Andy Parrino for assignment and recalled LHP Aaron Poreda from Triple-A, the club announced.
Boston Red Sox : Designated IF Ryan Roberts for assignment, the team announced. IF Brock Holt was recalled from Triple-A in a corresponding move.
Detroit Tigers : OF Tyler Collins was optioned to Triple-A, the club announced. RHP Justin Miller was called up to fill his roster spot.
New York Yankees : Designated LHP Cesar Cabral for assignment and recalled RHP Matt Daley from Triple-A, the team announced.
INJURY UPDATES
Angels: 3B David Freese is day-to-day with a hamstring problem. (MLB.com)
Blue Jays: DH Adam Lind was placed on the 15-day DL with lower back tightness, the team announced. The move is retroactive to April 16 ... RHP Casey Janssen will miss at least two weeks with a back problem. He is currently on the DL with a shoulder injury. (MLB.com)
San Francisco Giants : OF Michael Morse is day-to-day with a hamstring issue. He could return to the lineup as soon as Saturday. (San Francisco Chronicle)
Cleveland Indians : DH Jason Giambi (rib) won't be activated off the DL until at least Monday. (MLB.com)
Seattle Mariners : Manager Lloyd McClendon said RHP Hisashi Iwakuma (finger) will "likely" start a minor league rehab assignment on Tuesday. (News Tribune)
Nationals: C Wilson Ramos (wrist) has started taking light swings. (Nats Insider)
Baltimore Orioles : 3B Manny Machado (knee) will play five innings in an extended spring training game on Saturday (MASN Sports) ... OF Nolan Reimold (neck) has resumed baseball activities. (MLB.com)
Phillies: LHP Cole Hamels (shoulder) is expected to rejoin the rotation either Tuesday or Wednesday.
Pirates: SS Jordy Mercer left Friday's game with an apparent ankle injury after being spiked at second base on a double play pivot. The extent of his injury is unknown. (Pittsburgh Tribune-Review)
Rangers: Placed RHP Tanner Scheppers on the DL with elbow inflammation.
Cincinnati Reds : LHP Aroldis Chapman has been cleared to throw live batting practice for the first time since his line drive incident (Cincinnati Enquirer) ... 2B Brandon Phillies is day-to-day with back spasms. (Cincinnati Enquirer)
Red Sox: 3B Will Middlebrooks (calf) will begin a minor league rehab assignment next week. (Providence Journal)
Tigers: RHP Joe Nathan said his arm felt "a lot livelier" during Thursday's outing. He has been dealing with a dead arm. (MLB.com)
Twins: OF Josh Willingham (wrist) has lifted weights but has not yet swung a bat ... OF Oswaldo Arcia (wrist) took some swing and hit off a tee. He received a cortisone shot on Tuesday. (St. Paul Pioneer Press)
Yankees: 1B Mark Teixeira (hamstring) is expected to return to the team on Sunday ... MRIs on OF Carlos Beltran's shoulder and wrist came back clean after he flipped over the right field wall trying to catch a foul ball on Thursday. He is day-to-day. (MLB.com)
Chicago White Sox : OF Adam Eaton is expected to play Saturday after leaving Friday's game with apparent lower body injury (CSN Chicago) ... Manager Robin Ventura said RHP Nate Jones ' back injury might be more severe than the team initially realized. (MLB.com)
MISCELLANY
RHP Freddy Garcia : Appears to be close to signing with a team in Asia. (MLB Daily Dish)
RHP Zack Greinke: Tied the all-time record with his 16th consecutive start with two or fewer runs.
OF Franklin Gutierrez : Reportedly wants to play next season. He decided to take the 2014 season off to focus on his health.
RHP Joel Hanrahan : Is expected to start taking offers next week. He is recovering from Tommy John surgery and recently threw for teams. (Fox Sports)
Athletics: Manager Bob Melvin confirmed the team will continue to go with a closer by committee. (CSN Bay Area)
Atlanta Braves : Fell four outs short of a combined no-hitter against the Mets.