MLB rumors, injuries and news roundup for April 6
Included in today's daily recap are injury updates on Aroldis Chapman, Byron Buxton, Chad Billingsley and Cole Hamels, among others.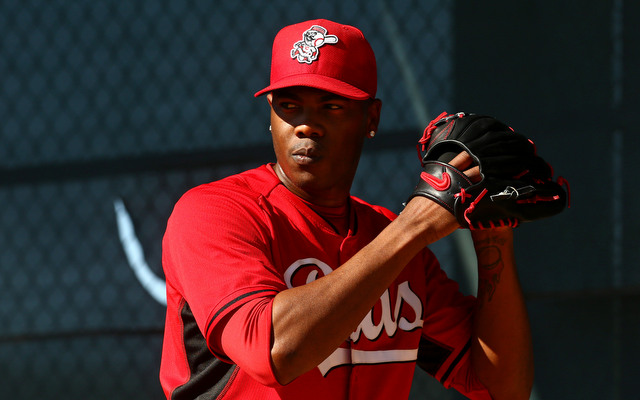 More MLB: Scoreboard | Standings | Probable Pitchers | Sortable Stats | Odds
The first full week of the 2014 season is in the books. We still have a few more home openers to get through in the coming days, but soon all the pomp and circumstance will be over and the beautiful monotony of day in, day out baseball will resume. Here is a recap of Sunday's baseball news.
RETIREMENTS
OF Darnell McDonald: The veteran outfielder has retired, he announced on Instagram.
TRADES
Los Angeles Dodgers : Acquired LHP Colt Hynes from the Cleveland Indians for minor league RHP Duke von Schamann, the team announced.
ROSTER CUTS
Dodgers: Designated OF Mike Baxter for assignment, the club announced. The move clears a spot on the 40-man roster for Hynes.
RUMORS & SPECULATION
LHP Randy Wolf : Three to five unknown teams have expressed interest in the free agent southpaw. (MLB Daily Dish)
San Francisco Giants : They have exchanged contract proposals with the representatives for 3B Pablo Sandoval this weekend, but the two sides are not close to a deal. (ESPN)
INJURY UPDATES
Houston Astros : OF Dexter Fowler (illness) is unlikely to play during the team's upcoming series. (Houston Chronicle)
Oakland Athletics : Top prospect SS Addison Russell was placed on the 7-day DL with a hamstring problem. He is in Double-A. (Oakland Clubhouse)
Dodgers: OF Yasiel Puig went for an MRI on his injured left thumb. He is day-to-day with a strained ligament. He will avoid the DL ... RHP Chad Billingsley (Tommy John surgery) cut short his minor league rehab start because "something didn't feel right," though he did not elaborate (True Blue LA) ... RHP Josh Beckett (thumb, ankle) felt fine after throwing a bullpen session. (Los Angeles Times)
Seattle Mariners : RHP Hisashi Iwakuma (finger) will begin throwing off a mound in the middle of this coming week. (MLB.com)
New York Mets : Closer RHP Bobby Parnell has elected to have Tommy John surgery.
Washington Nationals : The MRI on 3B Ryan Zimmerman 's shoulder showed inflammation but no structural damage. He will be reevaluated on Tuesday (MASN Sports) ... RHP Doug Fister (lat) played catch for the first time since being placed on the DL (Washington Post) ... OF Scott Hairston was placed on the 15-day DL with an oblique injury.
Baltimore Orioles : SS J.J. Hardy was scratched from Sunday's game with back spasms. He is unlikely to play Monday. (Baltimore Sun)
San Diego Padres : RHP Casey Kelly (Tommy John surgery) was scratched from his scheduled simulated game with discomfort in the back of his elbow. The team thinks he will be able to resume throwing as soon as Monday. (San Diego Union-Tribune)
Philadelphia Phillies : LHP Cole Hamels (shoulder) allowed two runs on three hits in four innings during a rehab start with the team's High Class-A affiliate.
Pittsburgh Pirates : Top prospect RHP Jameson Taillon will have Tommy John surgery ... LHP Jeff Locke (oblique) will begin a minor league rehab assignment on Tuesday. (Pittsburgh Gazette)
Cincinnati Reds : LHP Aroldis Chapman (head) played catch on Sunday for the first time since his scary line drive incident (Cincinnati Enquirer) ... OF Billy Hamilton (finger) will return to the lineup on Monday. (Cincinnati Enquirer)
Boston Red Sox : Placed 3B Will Middlebrooks on the 15-day DL with a Grade 1 calf strain ... DH David Ortiz (calf) has "been hobbled" since spring training and the team will monitor his status ... OF Shane Victorino (hamtring) was unable to receive treatment because he has the flu ... OF/1B Mike Carp (back) underwent an MRI, but the results are not yet available. (Boston Herald)
Colorado Rockies : RHP Tyler Chatwood (hamstring) is scheduled to make a minor league start for the team's Triple-A affiliate on Tuesday (Denver Post) ... LHP Boone Logan (elbow) will be activated off the DL on Monday. (Denver Post)
Minnesota Twins : Top prospect OF Byron Buxton (wrist) will not be able to resume baseball activities until at least the middle of the week (Star Tribune) ... X-rays on OF Josh Willingham 's wrist came back negative following a hit-by-pitch. He is day-to-day (Star Tribune) ... OF Oswaldo Arcia (wrist) is taking anti-inflammatories, but he may be placed on the DL if he is not ready to play by Wednesday. (MLB.com)
Chicago White Sox : 2B Gordon Beckham (oblique) was scratched from a third straight minor league rehab game on Sunday because he still feels some discomfort (Chicago Sun Times) ... RHP Nate Jones (hip) is likely to spend more than the minimum 15 days on the DL. (CSN Chicago)
MISCELLANY
RHP Yu Darvish: Was activated off the DL and became the quickest to 500 strikeouts in MLB history. He did it in 401 2/3 innings.
SS Derek Jeter: Went 2-for-5 on Sunday, moving him into sole possession of eighth place on the all-time hits list with 3,320.
Dodgers: Manager Don Mattingly said that while LHP Hyun-Jin Ryu is healthy, they would prefer to give him extra rest rather than start him against the Detroit Tigers on Wednesday. (True Blue LA)
Harrison has a thing for ending no-hit bids

Hill was close to perfect across regulation but it turned out to be all for nothing in the...

Plus Hank Aaron weighs in on Colin Kaepernick, Trevor Rosenthal hits the DL, and more
Davis should help fortify the Red Sox outfield

Whether or not Mike Matheny will adjust is to be seen

Hammerin' Hank wants to see Kaepernick get another shot in the NFL