MLB rumors, injuries and news roundup for Aug. 20
Wednesday's MLB recap -- including updates on Garrett Richards, Yadier Molina, Zack Greinke, Carlos Beltran, Starlin Castro, Cameron Maybin and others -- can be found within.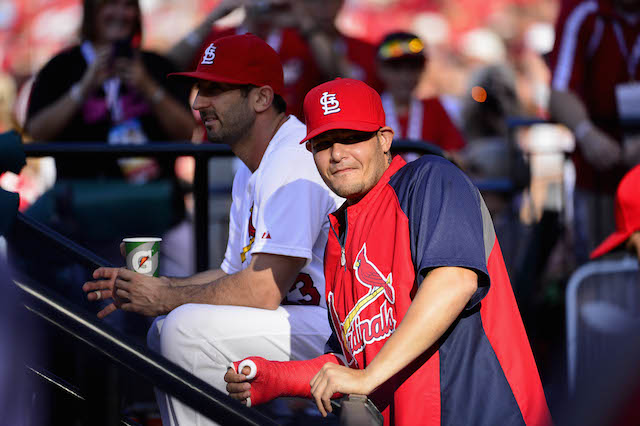 Here's all that's worth knowing for Monday, Aug. 4 (click here for today's scores) …
JON HEYMAN
- Our MLB insider writes that the Red Sox are unlikely to sign former ace Jon Lester this offseason. Heyman names the Cubs and Yankees as early contenders to land the free-agent-to-be. 
INJURY UPDATES
- Angels: RHP Garrett Richards suffered a left knee patellar injury on Wednesday night. Early indications are that it's a serious injury. 
- Cardinals: C Yadier Molina (thumb surgery) was able to take some swings on Wednesday (via R.B. Fallstrom on Twitter). Molina still needs to progress to a likely minor-league rehab assignment, but barring setback he could be activated before the middle of September. 
- Dodgers: RHP Zack Greinke will have his next start pushed back from Thursday to Saturday because of elbow irritation. He's not going on the DL, at least right now. (Ken Gurnick, MLB.com)
- Giants: C Hector Sanchez could be lost for the remainder of the season after suffering a second concussion. (Andrew Baggarly, CSN Bay Area)
- Indians: 1B Nick Swisher will undergo season-ending surgery on both knees. 
- Pirates: RHP Gerrit Cole pitched well in his first start since going on the DL with a lat injury. 
- Rays: After almost three months, the Rays have activated OF Wil Myers (wrist) from the 60-day DL. 
- Rockies: OF Carlos Gonzalez might not be fully ready for the start of spring training after undergoing knee surgery on Monday. (Thomas Harding, MLB.com)
- Yankees: RHP Masahiro Tanaka (elbow) threw 35 pitches from a bullpen mound on Wednesday. Included in his throwing session were breaking balls and splitters ... OF Carlos Beltran is still having soreness in his right elbow and will miss Thursday's game. How well he responds to a cortisone shot will determine whether he's able to play Friday. (Bryan Hoch, MLB.com)
RUMORS, SPECULATION, NEWS, ETC.
- Curt Schilling: Announced that he's been battling mouth cancer, which he attributes to his using tobacco in the past. Schilling's cancer is currently in remission. 
- Cubs: SS Starlin Castro has left the team to deal with what manager Rick Renteria termed a "family tragedy." As CSN Chicago's Patrick Mooney writes, Castro is expected to go on the bereavement list. 
- Cubs, Giants: After an upheld protest by the Giants, they'll resume their weather-shortened game with the Cubs on Thursday afternooon. 
- Padres: Reinstated OF Cameron Maybin from the restricted list. Maybin finished serving a 25-game suspension for failing a test for amphetamines. (Dennis Lin via Twitter)
Neither Josh Donaldson nor Brian Dozier have talked about a new contract extension

Francisco leads the Dominican Winter League with seven home runs

Thome deserves enshrinement and here's why the case against him does not hold up
The Twins have already fortified the bullpen with Addison Reed, and now they want to address...

The Orioles likely want pitching, and the Indians have plenty of it

Halladay died in a November plane crash off the coast of Florida