MLB rumors, injuries and news roundup for Aug. 22
Saturday's MLB recap -- news, transactions, rumors and injury updates -- can be found within.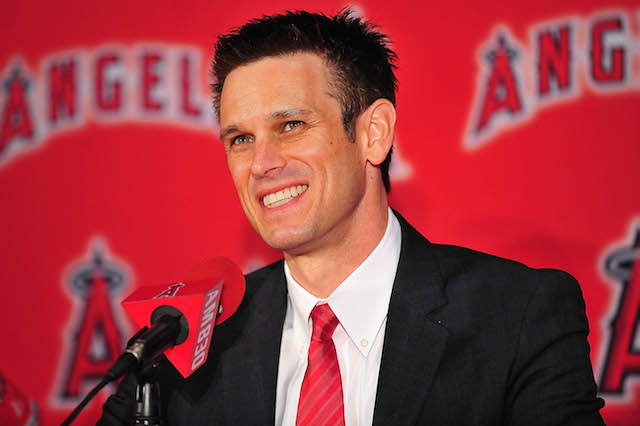 Here's all that's worth knowing for Friday, Aug. 22 (click here for today's scores) …
SIGNINGS & AGREEMENTS
- Red Sox: Are wrapping up a seven-year, $72.5-million contract with Cuban OF Rusney Castillo.
INJURY UPDATES
- Angels: As planned, RHP Garrett Richards underwent surgery on Friday to repair the patellar tendon in his left knee. He's facing a recovery period of six to nine months. (Angels official Twitter)
- Athletics: Activated OF Craig Gentry (hand) from the DL. 
- Brewers: RHP Kyle Lohse (ankle) will rejoin the rotation on Monday and face the Padres. 
- Orioles: 3B Manny Machado (sprained right knee) is reportedly headed for season-ending surgery. 
RUMORS, SPECULATION, NEWS, ETC.
- Brady Aiken: There's talk that LHP Brady Aiken, the top overall pick of the June draft whom the Astros were unable to sign, may be headed to junior college. (Jim Callis via Twitter)
- MLB: Could modify and relax its local blackout policy for streamed games, perhaps in time for the 2015 season. (Maury Brown, Forbes)
- Angels: According to Peter Gammons, the Angels may have trouble finding a starting pitcher during the waiver period because the Orioles and Yankees and are looking to block any players that fall to them. Gammons also tweets that the Angels have interest in Bartolo Colon and or Scott Feldman, but neither has been placed on waivers as of this writing. 
- Dodgers: Are reportedly moving their Triple-A affiliate from Albuquerque to Oklahoma City in time for next season. (Michael Baldwin, the Oklahoman)
- Giants: MGR Bruce Bochy says there are no plans to move Buster Posey off catcher in the near future. (Andrew Baggarly, CSN Bay Area)
- Twins: The job of MGR Ron Gardenhire is reportedly safe for 2015. 
Gonzalez was reportedly killed in a car crash in Cuba

Our Black Friday FA shopping guide includes a starting pitcher, slugger, super sub, and re...

Get 15 percent off any order of more than $75 at CBS Sports Shop
Need a gift for someone who loves baseball? We're here to help as the holidays approach

Several prominent Japanese-born Mariners and ex-Mariners have said they will help as well

Get your sports fans something that they'll wear all year