MLB rumors, injuries and news roundup for August 23
Updates on the injured Manny Machado, Yu Darvish, Yan Gomes, David Ortiz, Michael Cuddyer and Derek Holland headline Saturday's daily recap.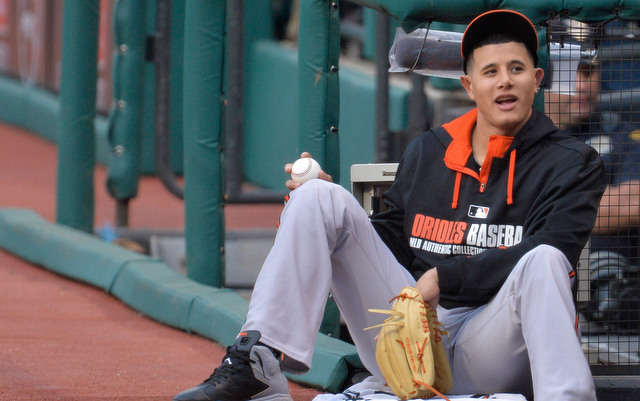 Another fun day of baseball is in the books. Right now three of the six division races as well as both wild-card races are separated by no more than three games in the standings. The last few weeks of the season are going to be a blast. Here is a recap of Saturday's news from around the league.
RUMORS & TRANSACTIONS
Chicago Cubs : Rejected a trade offer that would have sent RHP Edwin Jackson to the Atlanta Braves for OF Melvin Upton .
Cleveland Indians : Acquired C Chris Gimenez from the Texas Rangers for future considerations, the team announced.
New York Mets : Placed RHP Bartolo Colon on revocable trade waivers (ESPN) ... Likely to shop 2B Daniel Murphy in trades this offseason (New York Post) ... Activated RHP Jacob deGrom (shoulder) off the 15-day DL and sent RHP Rafael Montero to Triple-A, the team announced.
San Diego Padres : Activated RHP Andrew Cashner (shoulder) off the 15-day DL and sent LHP Frank Garces to Triple-A, the club announced.
Philadelphia Phillies : Designated IF Reid Brignac for assignment, the team announced. IF Freddy Galvis was recalled from Triple-A in a corresponding move.
Cincinnati Reds : GM Walt Jocketty will remain with the team after the season because he has "unfinished business" to resolve. His contract expires after this season. (Fox Sports)
Kansas City Royals : OF Alex Gordon plans to exercise his 2016 player option ($13.25 million), delaying his free agency by one year.
New York Yankees : RHP Hiroki Kuroda has not yet decided whether he will retire or continue pitching in 2015. (New York Post)
INJURY UPDATES
Indians: Placed C Yan Gomes on the 7-day concussion disabled list, the team announced ... DH Jason Giambi (knee) will begin a minor league rehab assignment soon and is expected to be activated off the disabled list when rosters expand on Sept. 1. (Cleveland Plain-Dealer)
Washington Nationals : RHP Doug Fister had a small amount of skin cancer removed from his neck recently. He did not miss a start.
Baltimore Orioles : 3B Manny Machado has decided to have surgery on his right knee because his condition was not improving. His season is over. (CSN Baltimore)
Rangers: RHP Yu Darvish (elbow) has not yet resumed throwing. There is no timetable for his return and it's possible his season is over (Fox Sports Southwest) ... LHP Derek Holland (knee) was scratched from Sunday's scheduled minor league rehab start due to back spasms. It is unclear when he will pitch again. (Fox Sports Southwest)
Boston Red Sox : DH David Ortiz left Saturday's game with a bruised left elbow after behind hit by a pitch, the club announced. He is day-to-day.
Colorado Rockies : OF Michael Cuddyer (hamstring) hopes to return to the lineup on Sunday (MLB.com) ... Top prospect RHP Jon Gray has been placed on the Double-A DL with minor shoulder soreness. (MLB.com)
Yankees: RHP Masahiro Tanaka (elbow) threw 35 pitches across two simulated innings, the Yankees announced. It was his first time facing hitters since getting hurt.
MISCELLANY
Oakland Athletics : Architectural consultant 360 Architecture is looking into design options for a new ballpark on the O.co Coliseum site.
Los Angeles Dodgers : Top prospect OF Joc Pederson became the first 30-30 player in 80 years in the Triple-A Pacific Coast League.
Nationals: Top prospect RHP Lucas Giolito has reached his innings limit and will be shut down for the remainder of the season. (MLB.com)
Tampa Bay Rays : Played Saturday's game under protest after Toronto Blue Jays manager John Gibbons appeared to challenge and ask for instant replay late.
Yankees: Retired No. 6 in honor of long-time manager and Hall of Famer Joe Torre.