MLB rumors, injuries and news roundup for August 29
Updates on the injured Joey Votto, Masahiro Tanaka, Jacoby Ellsbury, Coco Crisp, Steve Pearce and Daniel Murphy headline Friday's daily recap.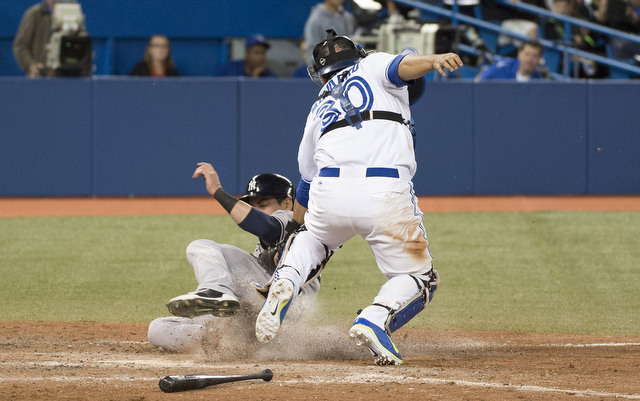 There is now officially less than one calendar month left in the 2014 regular season. Unless we need some tiebreaker games to determine postseason spots, of course. Here is a recap of Friday's news from around the league.
RUMORS & TRANSACTIONS
Cardinals: Activated C Yadier Molina (thumb) off the 15-day DL.
Indians: Signed 1B Russell Branyan to a minor league contract, the club announced.
Orioles: The team and OF Nelson Cruz have mutual interest in working out an extension (Jon Heyman) ... have talked to multiple clubs about acquiring an infielder in the wake of 3B Manny Machado's season-ending knee surgery. (MASN Sports)
Rockies: LHP Jorge De La Rosa was claimed off revocable trade waivers by an unknown team with the intention of blocking him from going to another club. (Jon Heyman)
Royals: Designated LHP Bruce Chen for assignment, the team announced. LHP Luis Coleman was called up in a corresponding move.
Tigers: Designated RHP Jose Ortega for assignment, the club announced. RHP Evan Reed was called up in a corresponding move.
White Sox: Intend to be players for Tigers DH Victor Martinez when he becomes a free agent after the season. (670 The Score)
Yankees: Designated LHP Rich Hill for assignment, the team announced. LHP Josh Outman was added to the active roster in a corresponding move.
INJURY UPDATES
Athletics: OF Coco Crisp left Friday's game with a neck strain after crashing into the wall and nearly robbing a home run.
Braves: LHP Jonny Venters will indeed undergo his third career Tommy John surgery and attempt to continue playing.
Mets: 2B Daniel Murphy (calf) is looking at a lengthy stint on the disabled list, according to manager Terry Collins.
Orioles: OF Steve Pearce has an abdominal strain and will undergo an MRI on Saturday. (MLB.com)
Rangers: RHP Miles Mikolas was scratched from Saturday's scheduled start with a sore shoulder, the club announced.
Reds: 1B Joey Votto still has "fairly significant discomfort" in his injured quad.
Yankees: RHP Masahiro Tanaka has "general soreness" in his right arm and is returning to New York to start strengthening exercises ... X-rays came back negative after OF Jacoby Ellsbury jammed his ankle sliding into home plate.
MISCELLANY
Astros: There is reportedly some tension between manager Bo Porter and GM Jeff Luhnow.
Athletics: Dropped their protest of a controversial obstruction call in Thursday's game.
Mariners: 1B Jesus Montero will not play again this season following an incident with scout Butch Baccala. Baccala reportedly sent Montero an ice cream sandwich in the dugout in an attempt to embarrass him, and Montero went after Baccala with a bat in the stands.
Rangers: Tied a dubious record by adding the 59th different player to their active roster this year.
Rockies: SS Troy Tulowitzki said he would retire rather than change positions. He is currently out for the season following hip surgery. (Denver Post)
A beardless Wilson says that he tried to outrun the police on the second day he had his driver's...

The Diamondbacks outfielder was not impaired, he was just going way too fast

MLB can unilaterally implement rule changes, which will also include limits on mound visit...
If the MLBPA wants to repair MLB's salary structure, it should push for more money for young...

Fans aren't happy Gerrit Cole and Andrew McCutchen have been traded away

Acuna is arguably the best prospect in baseball