MLB rumors, injuries and news roundup for August 7
Updates on the injured Brett Lawrie, George Springer, Josh Beckett, Ubaldo Jimenez, Chris Owings and others highlight Thursday's daily recap.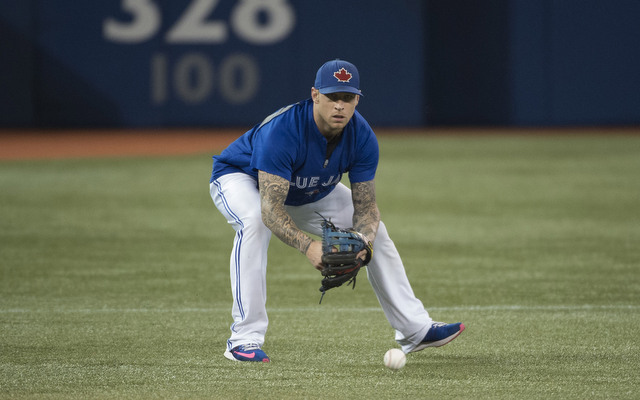 More MLB: Power Rankings | Expert Picks | Latest news & notes | Fantasy news
Another day of baseball is in the books. Here is a recap of Thursday's news from around the league as we inch closer to what is sure to be an exciting set of races down the stretch in September.
RUMORS & TRANSACTIONS
Los Angeles Angels : Acquired RHP Vinnie Pestano from the Cleveland Indians for minor league RHP Michael Clevinger ... GM Jerry Dipoto confirmed they are actively claiming players off trade waivers hoping to deal for another starting pitcher. (Orange County Register)
Toronto Blue Jays : Signed C George Kottaras to a minor league contract. (Jon Heyman)
St. Louis Cardinals : RHP Pat Neshek is open to discussing a contract extension with the team. (St. Louis Post-Dispatch)
Chicago Cubs : Reportedly claimed LHP Cole Hamels off revocable trade waivers from the Philadelphia Phillies . It is unlikely the two teams will actually work out a trade, however.
Arizona Diamondbacks : Called up prospect 3B Jake Lamb, the team announced. IF Andy Marte was designated for assignment in a corresponding move.
Los Angeles Dodgers : Acquired RHP Roberto Hernandez from the Phillies for two players to be named later.
San Francisco Giants : Activated OF Angel Pagan (back) off the 15-day DL, the team announced.
Texas Rangers : OF Alex Rios has cleared trade waivers, so he can now be traded to any team. (ESPN Dallas)
Colorado Rockies : SS Troy Tulowitzki is "sick and tired of losing" and said "something needs to change" with the team.
New York Yankees : RHP David Robertson said he would have given the team a discount if they offered him to an extension last offseason, but he will now be looking for a market value contract as a free agent this winter. (New York Post)
INJURY UPDATES
Houston Astros : OF George Springer (quad) suffered only a minor setback running the bases on Wednesday and will be examined on Friday (MLB.com) ... OF Dexter Fowler (intercostal) is expected to begin a minor league rehab assignment on Friday. (MLB.com)
Oakland Athletics : 1B Kyle Blanks (calf) will begin a minor league rehab assignment on Sunday. (MLB.com)
Blue Jays: 3B Brett Lawrie was placed on the 15-day DL with an oblique strain, the club announced ... X-rays came back negative after OF Melky Cabrera was hit by a pitch in the elbow, the team announced. He is day-to-day ... DH Adam Lind (foot) will likely be activated off the disabled list on Monday. (MLB.com)
Diamondbacks: SS Chris Owings (shoulder) hit off a tee and let it go "very aggressively." (MLB.com)
Dodgers: RHP Josh Beckett (hip) underwent an MRI and will likely be placed on the disabled list. (Los Angeles Times)
Seattle Mariners : UTIL Willie Bloomquist will have arthroscopic knee surgery on Friday and it will likely end his season. (Seattle Times)
Miami Marlins : LHP Dan Jennings was diagnosed with a concussion after being hit by a line drive in the side of the head. He will remain in the hospital overnight for observation.
Baltimore Orioles : RHP Ubaldo Jimenez (ankle) will rejoin the rotation on Saturday. (Baltimore Sun)
Pittsburgh Pirates : There is still a chance OF Andrew McCutchen (ribs) can avoid the disabled list (Pittsburgh Tribune-Review) ... SS Clint Barmes (groin) will not begin a minor league rehab assignment until he is fully comfortable during workouts. (MLB.com)
Chicago White Sox : RHP Matt Lindstrom (ankle) could be activated off the disabled list next week. (Chicago Tribune)
MISCELLANY
PEDs: The DEA has reportedly identified five players with ties to performance-enhancing drugs during their investigation into Biogenesis. MLB has asked for the indentities of the players so they can be suspended. It's unclear if the players are even major leaguers.
White Sox: There is a "better than average chance" third overall pick LHP Carlos Rodon will be promoted this season to work out of the bullpen. (MLB.com)