MLB rumors, injuries and news roundup for June 30
Updates on the injured Tyler Skaggs, Yunel Escobar, Carlos Gonzalez, Andrew Cashner, Shane Victorino and others headline Monday's daily recap.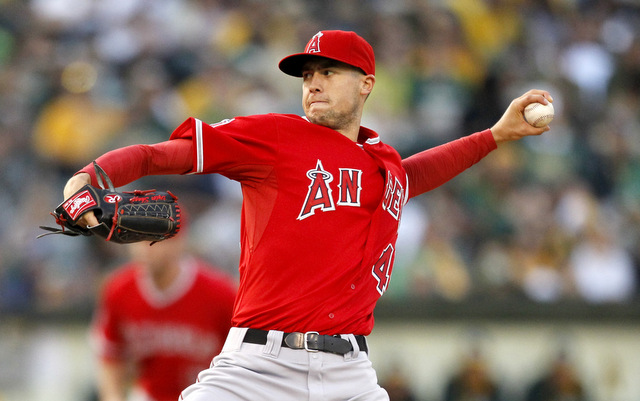 More MLB: Power Rankings | Expert Picks | Latest news & notes | Fantasy news
We almost had our fourth no-hitter of 2014 on Monday night. Chicago Cubs righty Jake Arrieta was four outs away from no-hitting the Boston Red Sox in Fenway Park before Stephen Drew broke it up with a solid single to right. I feel like the near no-nos are becoming a nightly thing. Here is a recap of Monday's news from around the league:
RUMORS & TRANSACTIONS
IF Yoan Moncada: The 19-year-old Moncada has legally left Cuba and will look to be declared a free agent so he can sign with an MLB team. (MLB.com)
Los Angeles Angels : Released RHP Joel Pineiro after he was suspended 50 games for testing positive for a banned substance, the team confirmed. He called it a "terrible mistake" in a statement.
Houston Astros : Designated RHP Jerome Williams for assignment, he confirmed to reporters.
St. Louis Cardinals : Recalled top prospect OF Oscar Taveras .
Miami Marlins : Acquired LHP Donnie Joseph from the Kansas City Royals for cash, the team announced.
Washington Nationals : Activated OF Bryce Harper (thumb) off the 15-day DL. 3B/OF Ryan Zimmerman will move back to third base full-time.
Baltimore Orioles : Designated 3B Michael Almanzar for assignment, the club announced.
San Diego Padres : Interviewed Los Angeles Dodgers vice president of amateur scouting Logan White for their vacant GM position, the team announced ... Cubs executive Jason McLeod is "flattered" but has taken himself out of the running their GM job (Chicago Sun-Times) ... Red Sox assistant GM Mike Hazen will interview for the GM position. (Boston Herald)
Tampa Bay Rays : Claimed RHP Cory Burns off waivers from the Texas Rangers and designated RHP Angel Sanchez for assignment, the team announced.
Royals: Signed OF/DH Raul Ibanez for the remainder of the season. The team also called up IF Christian Colon and designated both IF Pedro Ciriaco and OF Justin Maxwell for assignment.
New York Yankees : Have been "regularly" scouting Padres 3B Chase Headley . (Fox Sports)
NOTABLE DRAFT PICK SIGNINGS
Cincinnati Reds : Agreed to sign 19th overall pick RHP Nick Howard to a slightly below slot $1,990,500 bonus (MLB.com) ... signed 58th overall pick 3B Taylor Sparks to a slot $972,800 bonus. (Jon Heyman)
INJURY UPDATES
Angels: LHP Tyler Skaggs (hamstring) will rejoin the rotation on Wednesday. (MLB.com)
Oakland Athletics : Both LHP Scott Kazmir (hip) and OF Yoenis Cespedes (hamstring) left Monday's game with cramps and are considered day-to-day, the team confirmed.
Atlanta Braves : Placed C Evan Gattis on the 15-day DL with a "bulging thoracic disk" in his back.
Cardinals: Unsure when RHP Michael Wacha will pitch again due to his unusual shoulder injury.
Seattle Mariners : LHP James Paxton (shoulder) threw a 35-pitch bullpen session on Monday. (MLB.com)
Padres: RHP Andrew Cashner (shoulder) could begin playing catch on Tuesday. (MLB.com)
Rays: SS Yunel Escobar (shoulder) was placed on the 15-day DL following Monday's game, the team announced.
Red Sox: Manager John Farrell confirmed that OF Shane Victorino (hamstring, back) was scheduled to "do some light running today and begin to initiate some ground-based work." (MLB.com)
Colorado Rockies : Placed RHP Jhoulys Chacin on the 15-day DL with a shoulder issue ... OF Carlos Gonzalez (finger) hit off a tee for the first time. (Denver Post)
Detroit Tigers : DH Victor Martinez was scratched from Monday's lineup with a ribcage problem and is day-to-day, the team confirmed.
Chicago White Sox : RHP Matt Lindstrom (ankle) is about a week ahead of schedule. (MLB.com)
MISCELLANY
Frank Cashen: The former New York Mets and Orioles GM passed away at age 88.
All-Star Game: Athletics OF Yoenis Cespedes has moved into position to start the All-Star Game according to the latest fan voting update.
Athletics: Closer LHP Sean Doolittle issued his second walk off the season ... then served up a walk-off grand slam to Rajai Davis .
Astros: Internal documents about recent trade discussions were leaked. The team is planning to prosecute those responsible to the full extent of the law.
Cubs: OF Manny Ramirez hit a two-run home run in his first home game with the team's Triple-A affiliate.
Orioles: MLB has upheld Manny Machado 's five-game suspension. He started serving it on Monday night.