MLB rumors, injuries and news roundup for March 13
It's time for our nightly roundup of what's what in MLB news, injuries, rumors and the rest.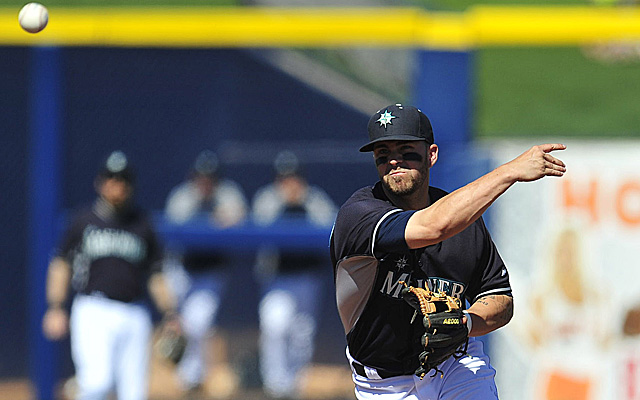 MORE: Spring Training | Scoreboard | FA tracker: hitters | FA tracker: pitchers
Nothing real Earth-shattering happened Thursday in terms of Major League Baseball news, so let's just get to it. Here's our nightly roundup.
SIGNING
Royals: How about this one? Forty-year-old pitcher Brett Tomko signed a minor-league deal with the club. He'll make $510,000 if he makes the team (via Ken Rosenthal).
Tigers: This happened last week, but hadn't been reported until today -- and it's another comeback. Nate Robertson signed a minor-league deal with the Tigers (Jason Beck of MLB.com).
INJURY UPDATES
Dodgers: Starting pitcher Josh Beckett could miss his scheduled Friday start due to a sprained thumb -- which he's been dealing with for 10 days since getting it caught in a set of doors leading to the clubhouse (latimes.com).
Giants: Outfielder Mike Morse will miss a few days with a mild calf strain (John Shea of San Francisco Chronicle).
Indians: DH/pinch-hitter Jason Giambi suffered a non-displaced fractured rib after being hit with a pitch, and he'll be out three to four weeks (cleveland.com).
Mariners: They're aiming for late April with starting pitchers Hisashi Iwakuma and Taijuan Walker, per Jon Heyman. Walker later threw a bullpen session and called it a "great relief," saying he felt "normal again." (Mariners.com)
Nationals: Starter Doug Fister felt some tightness in his inflamed elbow Thursday, but his scheduled bullpen session for Friday is still on -- so we'll know more in 24 hours (washingtonpost.com).
Rangers: Second baseman Jurickson Profar will be out three to five days after having his wisdom teeth removed (Rangers.com). Gotta love the spring!
Reds: Both Mat Latos and Jonathan Broxton are set for their respective next phases in the rehab process. Reds.com has the details.
Rockies: Shortstop Troy Tulowitzki will miss a few days of action due to a bruised calf (Troy Renck of Denver Post).
REPORTS, RUMORS AND SPECULATION
Mariners: According to Jon Heyman, there has been dialogue between the M's and free agent designated hitter Kendrys Morales, though there's still a divide in negotiations.
Nick Franklin: The young Mariners infielder is now drawing interest from the Rays, Mets and Orioles. He could be a fit at second for the Rays and O's or at short for the Mets (Jon Heyman).
Orioles: Shortstop J.J. Hardy wants to sign a contract extension and says the ball is in the Orioles' court. He even said, "I don't know what they're thinking," as in there hasn't been dialogue (masnsports.com).
Keep tabs on the top 50 free agents right here

Your one-stop shop for all things MLB Winter Meetings-related

The Angels knew about the first-degree sprain and still wanted to sign the potential ace, of...
The run on relievers continues with two more signings

The Yankees added Giancarlo Stanton in a blockbuster trade, though they now have openings at...

Smyly is currently on the mend from Tommy John surgery