MLB rumors, injuries and news roundup for March 16
Sunday's full spring training recap -- transactions, rumors and injury updates -- can be found within.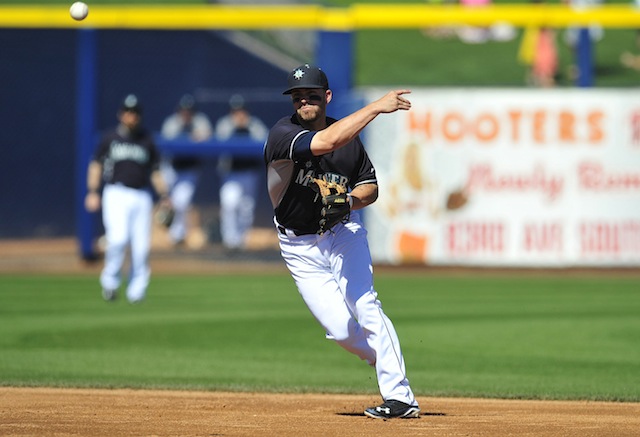 MORE: Spring Training | Scoreboard | Team previews
On the MLB spring training front, here's all that's worth knowing for Sunday, March 16 ...
RUMORS, SPECULATION, NEWS, ETC.
- Bill Bray: The lefty reliever has announced his retirement from baseball. Bray, 30, spent parts of six seasons with the Nationals and Reds. 
- Angels: Have acquired minor-league infielder Hector Gomez from the Brewers in exchange for a player to be named. 
- Diamondbacks: According to Jim Bowden's sources, the D-Backs will tab Chris Owings as their everyday shortstop. That may make incumbent Didi Gregorious available in trade. 
- Dodgers: Have designated reliever Javy Guerra for assignment in order to make room for INF Chone Figgins on the roster. 
- Orioles: The team appears to be making little progress in its efforts to sign 1B Chris Davis to a long-term contract extension. Davis, age 27, is coming off a 53-homer campaign and is eligible for free agency after the 2015 season. (Steve Melewski, MASN)
- Pirates: GM Neal Huntington has hinted that the team might be willing to part with bullpen depth in order to address needs elsewhere. (Travis Sawchik via Twitter)
- Tigers, Mariners: Detroit might address its hole at shortstop (Jose Iglesias figures to be out for quite a while) by trying to deal for M's 2B/SS Nick Franklin, who's part of a crowded infield mix in Seattle. The M's of course have Robinson Cano at second and appear to have settled on Brad Miller as the starting shortstop. But does the barren Tigers system have enough to pry Franklin away? (Ollie Connelly, Outside Pitch)
- Yankees: According to some of Nick Cafardo's industry sources, the Yankees remain the best fit for free-agent infielder Stephen Drew.
INJURY UPDATES
- Angels: OF Josh Hamilton (calf) is slated to make his spring debut on Monday. Hamilton says opening the season on the DL is not even being discussed. (Alden Gonzalez, MLB.com)
- Astros: RHP Jesse Crain (biceps surgery) could throw from the mound in roughly two weeks. (Brian McTaggart via Twitter)
- Diamondbacks: LHP Patrick Corbin has been diagnosed with a partially torn UCL in his elbow. He's likely facing Tommy John surgery and figures to miss the entire 2014 season. Jack Magruder tweets that the D-Backs will likely stick to in-house candidates to replace Corbin, at least for the time being. 
- Indians: OF Michael Bourn left Sunday's game with a strained left hamstring -- the same hamstring he had surgery on in October. However, Paul Hoynes of the Cleveland Plain Dealer writes that the strain is considered to be mild. Bourn will be re-examined on Monday. 
- Mariners: RHP Taijuan Walker (shoulder) responded positively to a 40-pitch bullpen session on Sunday. He's going to open the season on the DL, but consider this a promising development. (Greg Johns, MLB.com)
- Mets: LHP Jon Niese left his Sunday start because of elbow discomfort. He'll undergo an MRI back in New York. 
The Tigers essentially fired Brad Ausmus on Friday, but things are going to be ugly for a...

The club made the announcement on Friday

Plus the Tigers will make a change in the dugout and all of Friday's action
The Rockies are clinging to the second NL wild card spot at the moment

Plus Matt Olson and Kevin Kiermaier heroics, a look at Zack Greinke's dominance and more

Plus the Indians are now 27-1 in their last 28 games. Here is everything you need to know from...